An American classic gets an update in this easy gluten free pasta recipe for American Chop Suey.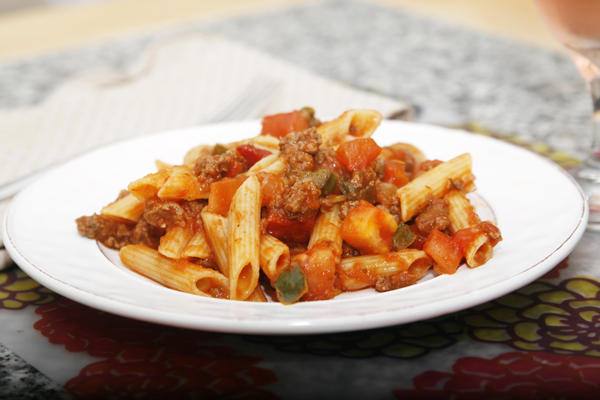 This post is sponsored by Barilla, but all opinions are my own.
When I moved to Maine last year, I started hearing about a dish called American Chop Suey. Chop Suey to me was a Chinese dish with meat, eggs and veggies — but I quickly discovered that they were talking about something different. No, American Chop Suey is something primarily served in New England that combines veggies, sauce and meat with pasta (usually macaroni(, and apparently it's a staple for many families.
Everyone has their own version of this regional favorite. It's even served in restaurants — including a local lunch spot run by friars where I recently overheard a woman explaining how much she liked their version and how it differed from her own.
Despite hearing about it, and seeing it on menus, I'd never had it until recently when a dear friend and my kids were making dinner. Turned out, it was pretty good — saucy and hearty, with a nice mix of veggies and meat.
Perhaps, just maybe, there's a reason it has risen to iconic status here.
This regional dish is so easy to adapt using Barilla's Gluten Free Penne Pasta, a pasta shape I much prefer to macaroni.
Hint: If you're convenient to a BJ's Wholesale Club, you can find Barilla® Gluten Free Penne in a handy four-pack of boxes there. Though we don't live gluten free, I was really pleasantly surprised to discover that the flavor and texture of Barilla Gluten-Free Pasta is very much like their traditional pasta. Made with corn and rice (and free of GMO ingredients), this pasta is made on dedicated gluten-free production lines.
Making this is pretty simple. You start by dicing onions (see the video above for my quick technique to make dicing a breeze!) and green peppers, and mincing some garlic. Then you saute the veggies in a little olive oil. Season them with salt and pepper
While the veggies are cooking, boil the pasta to al dente, so it's ready when you are.
Once veggies are tender, brown the meat (yes, in the same pan!). You'll want to push the veggies to one side while you do. Mix the browned meat and veggies all up, pour off the grease and season with Italian herbs.
Mix in marinara sauce and the cooked pasta, cook for a few minutes more and serve.
This dish? A total crowd pleaser. And if you have leftovers, they are great for packing for lunch the next day too.
Psst! Want to know more about this pasta? Visit BJ's Wholesale Clubs on December 22nd and 23rd to see an in-store Barilla Gluten Free pasta demo at select clubs. You can also find more Barilla Gluten Free Recipes on Pinterest.
American Chop Suey
Ingredients
1 tbsp olive oil
1 small yellow onion, diced
1 green bell pepper, diced
2 cloves garlic, minced
salt and pepper, to taste
1 lb ground beef
2 tbsp finely chopped fresh Italian herbs
1 jar Barilla Marinara Sauce
1 lb penne (for gluten-free, try Barilla Gluten Free Penne) prepared according to package directions
Instructions
Heat the olive oil in a large skillet. Add the onion, green bell pepper and garlic. Cover and cook, stirring occasionally, until the vegetables are softened -- about 10 minutes. Uncover and season with salt and pepper.
Push the veggies to one side of the skillet and add the ground beef. Brown, stirring and breaking apart as it cooks. Once the beef is fully browned and crumbled, combine with veggies. Carefully pour off excess fat into a bowl (you'll want to discard that safely later). Add the Italian herbs and stir well to combine.
Pour the sauce into the skillet and toss well. Add the pasta, toss again and let cook for 2-3 minutes until warmed throughout. Serve.
---
This post is part of a social shopper marketing insight campaign with Pollinate Media Group®, Barilla®, but all my opinions are my own. #pmedia #GlutenFreeBarilla http://my-disclosur.es/OBsstV