With a bold, zesty, robust flavor and packed with veggies, this vegetarian dish is sure to impress. Try Noodles with Broccoli, Carrots and Red Cabbage today!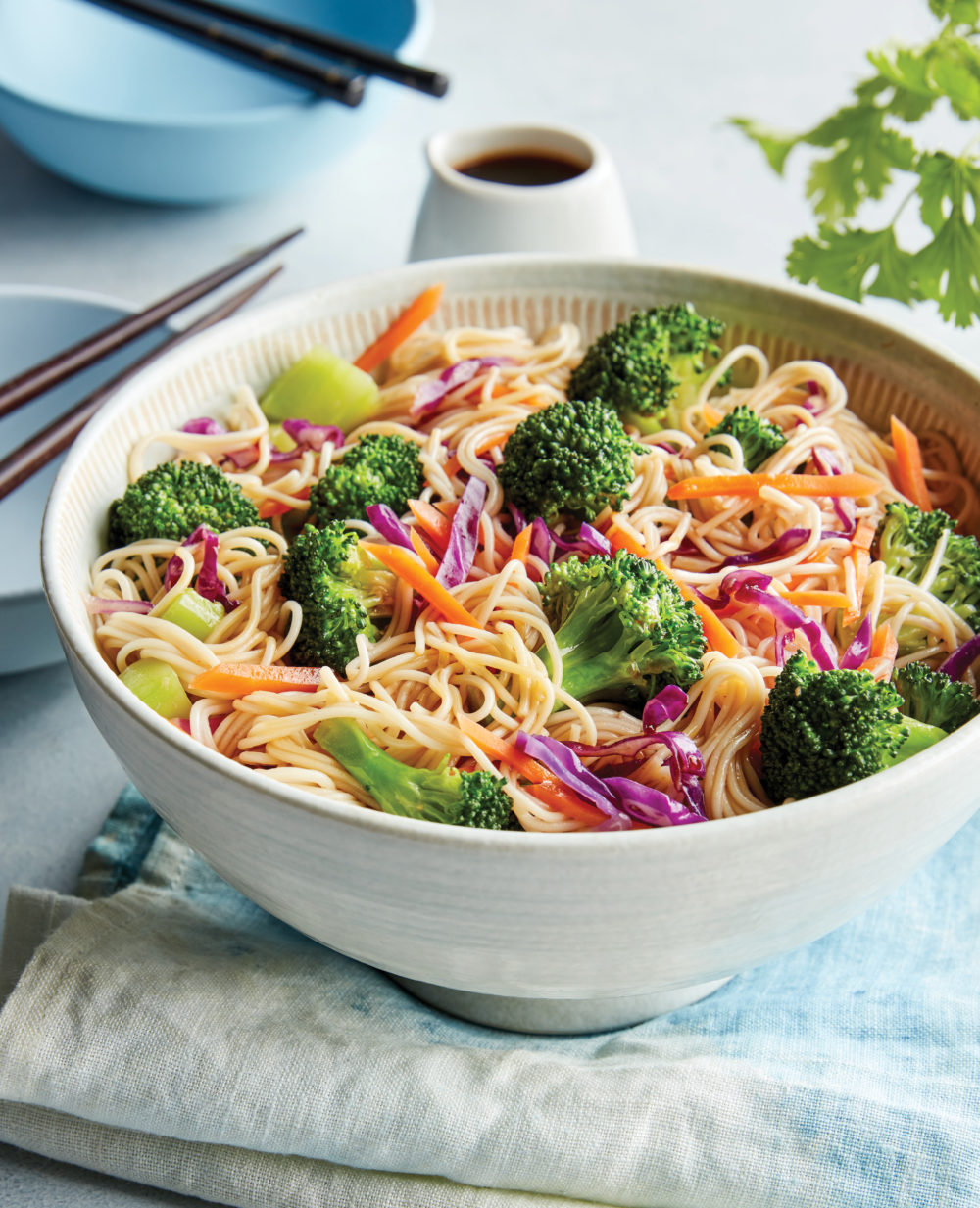 There are a few things you should know.
First, since March, my kids and I have all cooked lunches at home — sometimes at the same time. We've discovered a mutual love of fancy ramen and a desire for overflowing salads. Sandwiches are nice, but they are a once-in-a-while thing.
Second, 30 minutes is about the max we'll spend making something midday. But we usually opt for faster foods.
Third, although this recipe for Noodles with Broccoli, Carrots and Red Cabbage is a dinner recipe, it could also be a lunch recipe. And the leftovers are delightful to come back to.
What I love about this vegetarian noodle recipe is that it's stuffed with vegetables and has a wonderful, savory, zestiness sauce. That makes it special.
If you do happen to make this for lunch, it might just yield more than 4 servings. Especially if you like your midday meal to be less substantial than dinner.
What kind of noodles should I make this dish with?
I typically make this dish with soba noodles. Soba noodles are a nutty noodle made with buckwheat that's hearty and excellent served with a bevy of noodles and a light sauce, as in this easy dish.
But you'll notice that the image shows a different kind of noodle. Why? When this was photographed for Easy Frugal Cookbook (this recipe appears in it!), soba noodles weren't available so the stylist had to use a different variety called somen noodles.
We knew that, given the swap, we couldn't call this dish Soba Noodles with Broccoli, Carrots and Red Cabbage. And while changing it to somen noodles would have worked, the swap made it clear that the recipe could work with a variety of noodles. So that's why we don't specify.
Ultimately though, it's good with whatever noodles you have on hand and available. Sometimes the best option is the one you have.
---
You can find this recipe in my newest cookbook, Easy Frugal Cookbook. You'll love this book full of 100 recipes with 10 ingredients or less created with budgets in mind.
Easy Frugal Cookbook was released by Rockridge Press on July 7, 2020. Have you ordered your copy yet? And friends, if you do get a copy, I would love it if you'd like an honest review on your favorite review sites (or wherever you order from). Reviews help others decide if a book is for them.
Either way, thank you so much for the support!
Noodles with Broccoli, Carrots and Red Cabbage
Bold, exciting and flavorful, this dish is a treat to make. Despite the touch of Sriracha sauce in this recipe, these noodles aren't spicy. It adds a touch of zestiness that's offset with the other
flavors.
Ingredients
1 tablespoon canola oil
3 cups broccoli, florets broken into bite-size pieces and stems chopped
1 cup julienne-cut carrots
2 cups thinly shredded red cabbage
1 9.5-oz package noodles such as soba, somen, udon or ramen
3 tablespoons soy sauce
2 tablespoons water
1 tablespoon rice vinegar
1 tablespoon brown sugar
1 teaspoon Sriracha
1 teaspoon fresh grated ginger
¼ cup chopped cilantro
Instructions
In a large skillet set over medium heat, heat the oil. Once hot, add the broccoli, carrots and cabbage. Saute, stirring occasionally, until tender (about 8-10 minutes).
Meanwhile, heat a pot of water to boiling and cook the soba noodles according to package instructions.
In a small bowl, whisk together the soy sauce, water, rice vinegar, brown sugar, Sriracha and ginger.
Combine the sautéed vegetables and cooked soba noodles. Pour the sauce over. Toss to combine. Top with cilantro.
Notes
Budget Trick: Grocery stores have tricked us into thinking broccoli stems are useless but really they are delicious and not to be wasted. Trim the ends of stems, dice them and they can be used in pretty much any recipe that calls for broccoli.