With a rich shallot vinaigrette that brings this dish together, this Roasted Broccoli Grain Bowl is a total flavor-winner.
One of the very first meals I made involved roasting vegetables. On a baking sheet, I roasted broccoli with onions (and perhaps other veggies?) until they were browned and tender. And then I mixed them with marinara sauce. The concoction was served over pasta.
It was a creation of my mind. I was 11 years old and it was the early 90s. Roasted vegetables weren't a thing yet, so what I did was unusual. And, as it turned out, it was delightful.
I still love roasted vegetables — roasted cauliflower, roasted Brussels sprouts and roasted carrots are all on frequent rotation in my house. And roasted broccoli, with its nutty flavor, is still a favorite.
And I especially love roasted broccoli mixed with grains. Mixed with a flavorful vinaigrette, this Roasted Broccoli Grain Bowl makes a delightful dinner (or a wonderful packed lunch — be sure to pack the vinaigrette separately and mix just before eating.
For this Roasted Broccoli Grain Bowl with Shallot Vinaigrette recipe, start by roasting the broccoli with carrots and onions. With a drizzle and olive oil and a sprinkle of salt and pepper, the veggies cook to tender perfection.
Also, cook your grains. You get to choose which ones. Farro and barley are my favorite in this recipe, but quinoa, freekah, millet and others would work too.
And make the vinaigrette. It's simple: whisk together the minced shallots, olive oil, white wine vinegar, honey and mustard. Season it with salt and pepper, as desired. The rich, tangy vinaigrette brings all the flavors of this dish together.
Then you just need to make the bowls — combining grains, veggies and vinaigrette. Delightful. And so very worth it.
This can even be made ahead for enjoying later. If you do that and plan to serve it as a dinner for a group, store the three components in separate air-tight containers. If you want to pack this for lunches though, divide the grains into four containers. Top with the roasted veggies. Then seal. Pack the vinaigrette in separate containers. You'll want to heat the grains and veggies before dressing and serving.
Grab your favorite grains — quinoa, farro, barley, whatever — and make this flavorful Roasted Broccoli Grain Bowl soon.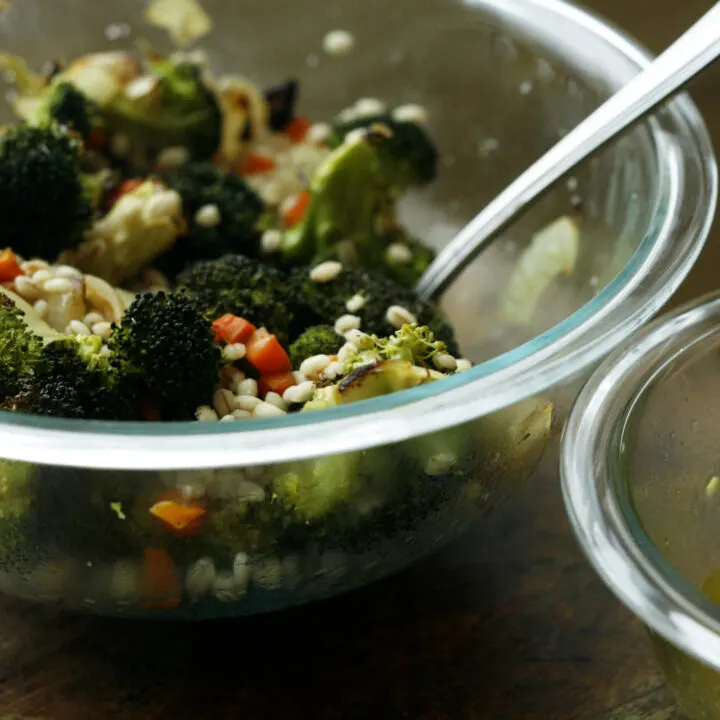 Roasted Broccoli Grain Bowl with Shallot Vinaigrette
Ingredients
4 heaping cups fresh broccoli florets
1 medium yellow onion, quartered and thinly sliced
2 carrots, peeled and diced
2 tbsp olive oil
salt and pepper, to taste
2 cups prepared grains (such as barley, farro, quinoa or rice)
Shallot Vinaigrette
1 shallot, finely minced
¼ cup extra virgin olive oil
¼ cup white wine vinegar
1 tsp honey
½ tsp dijon mustard
salt and pepper, to taste
Instructions
Preheat oven to 365 degrees Fahrenheit. Arrange the broccoli, onions and carrots on a nonstick baking sheet. Drizzle with olive oil and season with salt and pepper. Stir.
Bake for 20 minutes, stir and then bake for an additional 5-7 minutes, to desired doneness. I prefer them a crisp-tender with some caramelized bits. Remove from the oven.
Combine the roasted vegetables with the prepared grains. Toss well.
Meanwhile, whisk together the shallot vinaigrette ingredients.
To serve, divide the vegetable mixture among plates and drizzle, as desired, with vinaigrette. Enjoy