Tender, sweet and dotted with tart cranberries, this flavorful Cranberry Eggnog Bread captures the flavors of the holiday season.
What are you slicing into on Christmas morning? This delightful bread is an excellent idea.
The 2020 holiday season is a different one. For my family, it means celebrating separately for the first time ever. It also means that my kids and I are having our very first Maine Christmas. We'll be continuing some of our usual family traditions — like digging into a massive Christmas brunch after opening presents. But we'll also be doing our own thing too.
We never watch movies on Christmas Day. We barely even turn on the TV. But this year, we'll watch Wonder Woman 1984, which premieres that day, at home.
We'll have a special Christmas dinner that looks a lot different from the Christmas dinners we usually have. There will be no ham, turkey or rib roast, no twice baked potatoes. Instead, it will be all appetizers. Because why not?
And we might just stay in our PJs all day.
If you'd told me last spring that Christmas wouldn't involve travel or seeing my parents and siblings this year, I would have scoffed. But in the end, it's okay. I'd rather celebrate a little differently — and apart — this year and have many other years to enjoy together in the future.
Onto the bread.
This Cranberry Eggnog Bread, which is an easy quick bread recipe, captures flavors of the holiday season in a tender, sweet-tart loaf.
I love how the flavors in this bread come together, creating something delightful for breakfast or snack time.
What I adore about making quick breads like this is how easy they are to make.
Mix, stir, fold, bake. That's it.
The batter takes maybe 10 minutes to make total. Then it needs to bake (a little under an hour) and cool (maybe another hour).
Slice it and enjoy. I love to slather my Cranberry Eggnog Bread slices with a thin layer of salted butter. The creamy butter against the sweet bread is such a treat.
I hope whatever you do this holiday season, and however you celebrate, that you have a wonderful day. And know that even though this year is hard, taking precautions is worth it.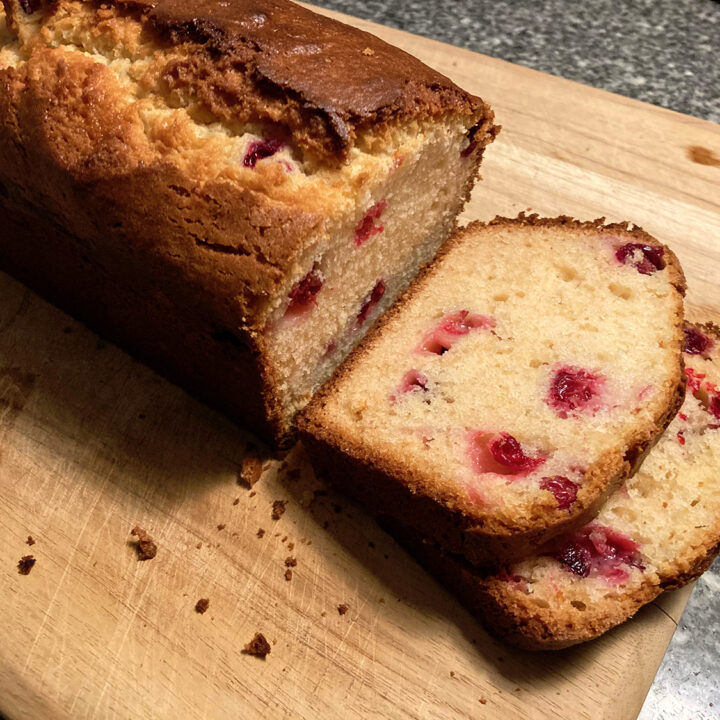 Cranberry Eggnog Bread
Tender, sweet and dotted with tart cranberries, this flavorful Cranberry Eggnog Bread captures the flavors of the holiday season.
Ingredients
1 large egg
1 cup eggnog
½ cup canola oil
3/4 cup granulated sugar
2 cups all-purpose flour
1 tbsp baking powder
1 tsp kosher salt
2 tsp vanilla extract
1 cup fresh cranberries, rinsed and well-drained
Instructions
Preheat the oven to 375 degrees Fahrenheit. Grease an 8.5-inch loaf pan with butter. Set aside.
In the bowl of a stand mixer fitted with the paddle attachment, beat the egg for about 1 minute until frothy. Add the eggnog and canola oil, mixing well to combine. Add the sugar and mix well to combine.
In a large mixing bowl, sift together the flour, baking powder and salt. With the stand mixer running on its lowest setting, add the flour mixture to the wet ingredients a little at a time until just incorporated.
Remove the mixing bowl from the stand mixer and scrape down the sides of the bowl with a rubber spatula. Fold the vanilla extract and the cranberries into the batter.
Pour the batter into the prepared loaf pan. Tap gently to even out.
Bake for 50-60 minutes, until golden brown. The bread is done when a butter knife inserted into the center of the pan comes out cleanly.
Place the pan on a cooling rack and allow the loaf to cool in the pan for 20 minutes before inverting to release (you may want to run a knife around the edges first to ensure an easy release). Cool completely before slicing.