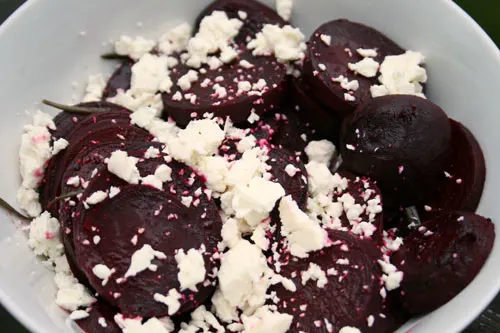 It's funny. It seems like with beets, people either love them or hate them. And of the people that hate them, I find that most haven't ever actually had fresh beets. If you fall into the latter category, my condolences and I urge you to give fresh, wonderful beets a try. Seriously.
Now for those of us who love them, it's a whole different ballgame. Boiled with a touch of salt? Perfection! Roasted? Even better. But tonight, oh tonight, I found something better and more wonderful – Roasted beets! With rosemary! And feta! The salted and peppered beets pick up a lot of the rosemary flavor, blending and melding in a wonderful, harmonious symphony of flavor. And then the creamy, but slightly salty feta just makes it burst in your mouth.
So. Good. These qualify as one of those OMG dishes where the serving might be for two people, but chances are you will eat them all yourself. Don't worry, I won't tell.
Looking for more delicious beet recipes? Try these:
Grilled Beets with Feta
Ingredients
1 bunch beets
 (about 2 cups)
1 5-inch piece of rosemary

1/2 tbsp extra virgin olive oil

salt and pepper, to taste

1/4 cup crumbled feta cheese
Instructions
Clean the beets and remove the tops (save then for another use!). Slice into 1/4-inch rounds.
Set a large (think about a foot and a half long) sheet of aluminum foil on the counter. In the center, layer the beets with the rosemary (on the stalk) in the center). Drizzle with olive oil and sprinkle with salt and pepper. Close the aluminum foil into a sealed packet.
Place the beet pack on a hot grill (direct flame). Let cook for 20-25 minutes until tender.
Remove the beets from the packet (carefully! it will be hot!) and place in a bowl. Discard the rosemary sprig. Sprinkle with feta and serve.
Nutrition Information:
Yield:

2
Serving Size:

1
Amount Per Serving:
Calories:

126
Total Fat:

8g
Saturated Fat:

3g
Trans Fat:

0g
Unsaturated Fat:

4g
Cholesterol:

17mg
Sodium:

397mg
Carbohydrates:

11g
Fiber:

2g
Sugar:

9g
Protein:

4g