Forget traditional coleslaw recipes. This Tangy Cranberry Almond Coleslaw recipe is a perfect sweet-tart salad for all your warm weather gatherings.
This post was sponsored by Hellmann's. All opinions are my own.
Warm breezes, the sound of waves crashing on the shore, laughter … these are the things our happy summer celebrations are made of. And they are fueled by summer dinners where the chicken is grilled, the corn is freshly peeled and steamed and the salads are chilled.
We had a bit of a celebration recently for a special boy's birthday. Will was just three months old when I started Sarah's Cucina Bella back in 2005. Three. Months. Old. He hadn't tried solid foods, sat up on his own or even said a word yet. Now, he's just turned seven.
I can't believe I am mom to a seven-year-old. Wasn't Will just that baby peering into the fridge in a onesie? Or that little guy heading to soccer for the first time? Or that little boy heading off to Kindergarten? He's growing up. Will loves science and swimming. He plays soccer, runs track and is learning to ride a bike sans training wheels. And he's a voracious reader who devours chapter books. And he loves good food.
For his birthday, he choose the menu. His request? Macaroni and cheese and make your own salads. I added grilled chicken, boneless beef ribs and this Tangy Cranberry Almond Coleslaw to the mix to round it out. He was thrilled and devoured a towing plate of food. Plus cake.
This recipe started with a little cabbage from my CSA, which I knew I wanted to prepare as freshly as I could. But I didn't want a classic creamy-sweet version. Instead, I went for tang with just a hint of sweet. And I wanted simple. Fresh cabbage, red peppers, carrots, dried cranberries and almonds … these came together in a symphony of tastes and textures.
While this does take some chopping, this recipe is definitely simple. The dressing is a mere three ingredients (plus salt and pepper).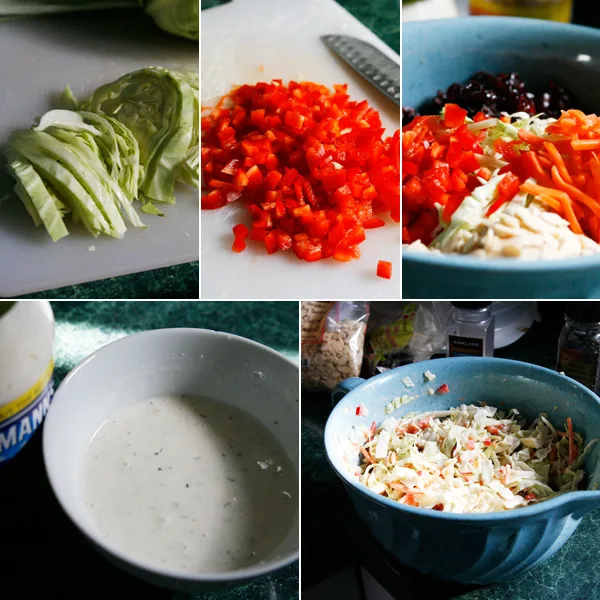 Speaking of the dressing, I used Hellmann's® Mayonnaise Dressing with Olive Oil in it. As you may remember, I am one of Hellmann's Real Foodies so every so often they send me goodies to cook with and whatnot. Recently, that included a jar of the olive oil version of their classic mayo. This is something I've wanted to try for more than a year so I was psyched. And it was perfect for blending into this coleslaw dressing for a clean, tangy flavor with seasoned rice vinegar and dried dill.
This coleslaw was an overwhelming hit with no leftovers waiting the next morning.
Tangy Cranberry Almond Coleslaw
Ingredients
1 small cabbage, , finely shredded (about 4 cups)
1 cup shredded carrots
1 red pepper, , finely chopped
1/2 cup dried cranberries
1/2 cup sliced almonds
1/2 cup Hellmann's® Mayonnaise Dressing with Olive Oil
1/4 cup seasoned rice vinegar
1/8 tsp dried dill
salt and pepper, , to taste
Instructions
In a large mixing bowl, stir together the cabbage, carrots, red pepper, dried cranberries and almonds.
In a small bowl, whisk together the mayo, rice vinegar, dill, salt and pepper. Pour over the cabbage mixture and toss to coat.
Cover and chill for at least two hours, allowing the cabbage to soften and wilt. Stir again. Serve.
---
Disclosure: Although I am a Hellmann's Real Foodie, I wasn't compensated for this post. However they did provide me with the mayo and a gift card for groceries that helped finance the creation of this recipe.