This summery salad is fresh, light and delightful. Try Lemony Farro Salad with Basil and Tomatoes today!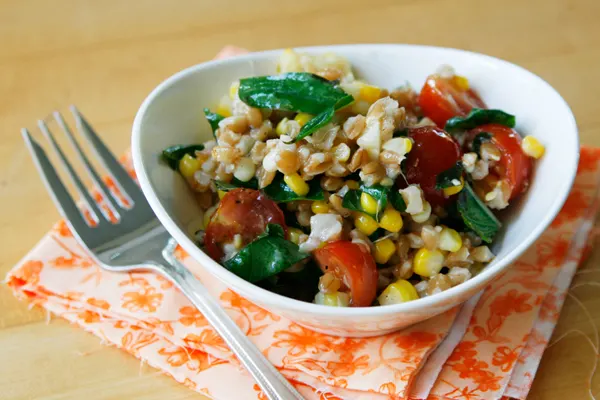 If I had to laid blame for my recent obsession with ancient grains, it would lay firmly on the shoulders of the dear Joanne of Eats Well with Others. After several potlucks at the Sweetnicks house, she's opened my eyes to whole grains. Before trying her salads and side dishes, I'd only delved into the land of couscous and quinoa, but hadn't dug deeper to discover the possibilities. But since then, I totally took it and ran with it.
And since I am laying blame, it's all her fault I recently returned from Whole Foods a little poorer after stocking up on grains like farro, wheat berries and so much more. But then, this is totally a good kind of blame, since Joanne's influence has led me to these wonderfully health and tasty bits of goodness. So, laying blame here is kind of like a sideways thank you.
Just go with it.
Farro is a new-to-me grain that I've heard about on various blogs over the last year or so. But I only recently decided to try it — was surprised that it takes about an hour to get light and fluffy. That's longer than I usually spend on things in the kitchen.
Farro, which is sometimes called 'emmer,' is a form of wheat that's been gaining in popularity in recent years. In my research, I also discovered that July's grain of the month — as designated by the Whole Grains Council — is wheat (yes, that includes farro) — score one for the grain nube.
Anyway, back to the farro. Once it's cooked, it's perfect for hot or cold applications. Just make sure you season it well. Farro doesn't have much of its own taste, which is great since it can be adapted into so many dishes as a result.
Originally when I started making farro, it was to make a recipe in the July/August issue of Food Network Magazine. But almost immediately, I found myself deviating from the recipe in terms of ingredients, method and flavoring.
So this recipe bears little resemblance to that recipe, though it was totally inspired by it. See, the Food Network one involved a lot more cooking and prep work. But I wanted to go simpler with sweet, just steamed corn, raw tomatoes and basil, flavored with lemon and olive oil.
The result was a refreshing summery salad that is perfect for summer picnics, barbecues or weekend dinners. Make it ahead if you don't have time for the long farro cooking period.
The lemony dressing is a cool, citrusy treat that brings all the flavors together in a neat package. This salad? Super good. There were virtually no leftovers after dinner — and the little portion that was still in the fridge the next day was gobbled up before I could even get to it.
That speaks volumes, right?
So, yes, I will be making this again. And yes, everyone loved this one. The farro reminds me of a less nutty brown rice — and I absolutely adore it.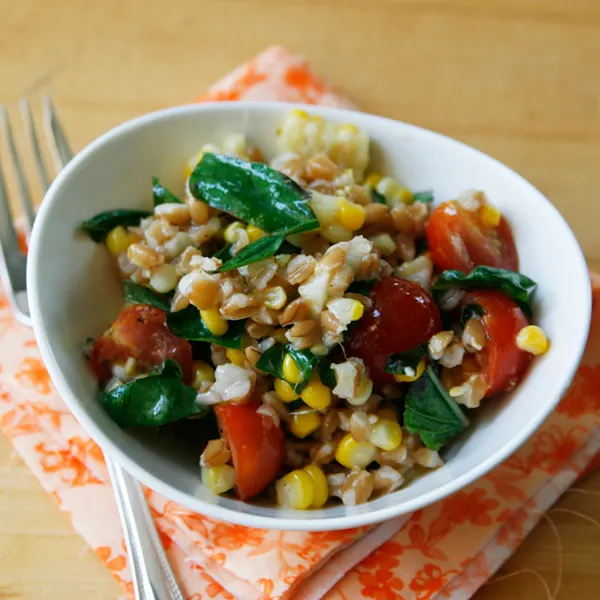 Lemony Farro Salad with Basil and Tomatoes
Total Time:
1 hour
15 minutes
This recipe sounds quick and easy, but be warned -- it's not that quick. Farro takes about an hour to cook. The efforts are totally worth it.
Inspired by Food Network Magazine
Ingredients
3 ears corn, steamed and kernels cut off
1 cup cherry tomatoes, halved
1 cup packed basil, chopped
1 cup farro, prepared according to package directions and drained well
1/4 cup extra virgin olive oil
1/3 cup lemon juice
salt and pepper, to taste
Instructions
In a large bowl, stir together the corn, tomatoes and basil. Add the farro and stir to combine. Drizzle with olive oil and lemon juice and season with salt and pepper. Toss well. Chill for at least 30 minutes before serving.