I am a member of the Collective Bias® Social Fabric® Community. This shop has been compensated as part of a social shopper amplification for Collective Bias and its advertiser.
Grilling some certified Angus beef with a mouthwatering rub makes this Chili Garlic Steak with Cheesy Veggie Caesar Pasta Salad perfect for backyard dining.
When it came to classic summer salads, when I was a child my family always opted for mayonnaise-filled potato salads and macaroni salads. Occasionally, there'd be some sweet-ish coleslaw too. But I prefer my summer salads with more of a vinaigrette spin, so I seldom ate them. Until, that is, I discovered German Potato Salad and — my all-time favorite — pasta salad. That totally opened the world of summer salads for me.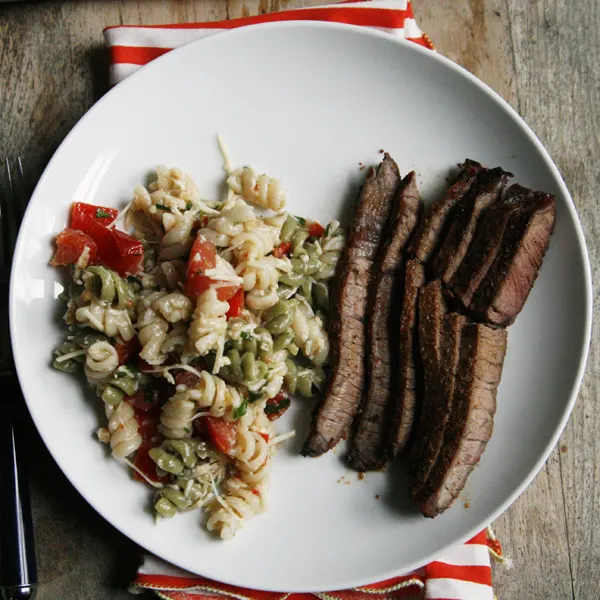 And now? I love 'em. Because there's nothing like whipping up a big batch of something and grilling some meat to dig into with it. Vinaigrette-based pasta salads can come in so many flavors and forms — perfect as a side dish for whatever you are making. How can you go wrong?
Here, I've paired a flavorful steak with a zesty spice rub with a veggie-loaded pasta salad. It brings together the flavors of summer with the smoky goodness of grilled meat. Can I get a yum?
Trust me, you'll want to whip up this recipe for Chili Garlic Steak with Cheesy Veggie Caesar Pasta Salad. It's perfect for dinner — or whenever. And, of course, it's served with an easy vinaigrette-based pasta salad made easy with Betty Crocker Suddenly Salad Caesar. To make it extra special, I added fresh tomato, red peppers, parsley and extra parmesan cheese. It's a terrific meal that will have everyone enjoying every last bite.
For this recipe, I found all the ingredients for this at Price Chopper. I have fond memories of shopping at our local Price Chopper when I was a tween and teen, so it was fun to pop into one to pick up what I needed for this delicious, quick and easy recipe for summer grilling. What's great, too, is that with Price Chopper's store loyalty card, there's big savings to be had.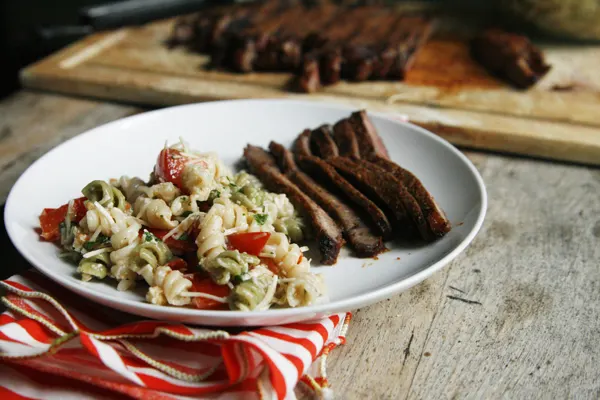 Ready for dinner?
Also … I was asked to fill you in about the fun Great Grilling Giveaway Sweepstakes, which runs through June 14, 2014. Find out more details on the contest website and learn how could you could be one of the Four Grand Prize Winners who will each receive: One (1) $500 Lowe's Gift Card, One (1) 500 Price Chopper Gift Card and Grilling Accessories from Certified Angus Beef.
Now, onto the recipe!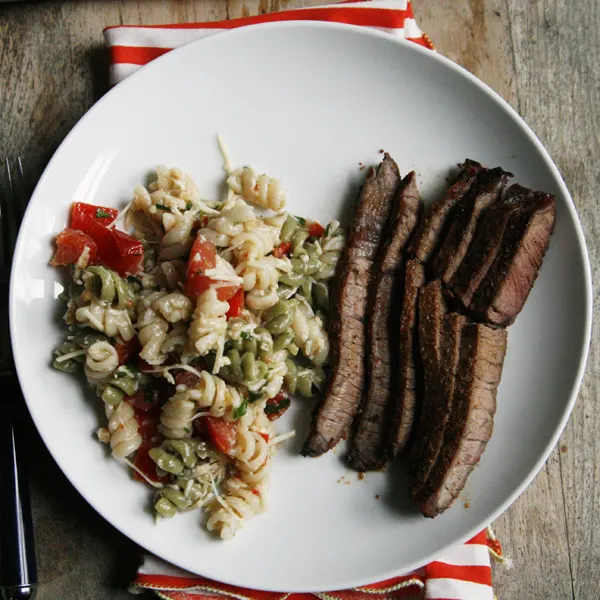 Chili Garlic Steak with Cheesy Veggie Caesar Pasta Salad
Ingredients
1 tsp garlic powder
2 tsp kosher salt
1 tsp chili powder
1/2 tsp onion powder
1/4 tsp smoked paprika
Sirloin steak
Betty Crocker Suddenly Salad Caesar
1 cup shredded parmesan cheese
1/2 cup finely diced red bell pepper
1 medium ripe tomato, , diced
1 tbsp finely minced fresh parsley
Instructions
In a small bowl, stir together the garlic powder, salt, chili powder, onion powder and smoked paprika until well-combined. Rub all over the sirloin steak, using all the spice rub.
Preheat the grill to its medium setting until good and hot. Place the steak on the grill and cook, flipping once, to desired doneness – about 12-18 minutes. Remove from the grill and let rest for 10 minutes before slicing into thin slices (against the grain).
Meanwhile, in a large bowl, stir together the prepared Caesar Suddenly Salad with the parmesan cheese, red bell pepper, diced tomato and parsley until well combined.
Serve the steak with the pasta salad. Enjoy.
---
Disclosure: I was compensated for creating this recipe using products from Price Chopper, but all opinions are my own. #PriceChopperBBQ #CollectiveBias