From sweet to dinners, brunch to appetizers, 2014 was a year filled with quick and easy recipes, delicious food and fresh ideas here on Sarah's Cucina Bella. I dug through Google Analytics to find out what the most popular new recipes were in 2014 — and without further ado, here are the top 10 recipes of 2014 on SCB.
Psst! Also, check out the top recipes from 2013, 2012, 2011, 2010 and 2009.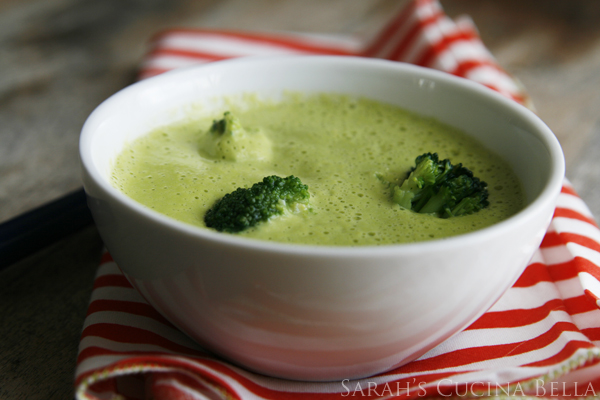 Oh, this soup. It takes minutes to prepare in the Vitamix and is so comforting on a cold winter night.
Busy families know how important it is to have easy slow cooker recipes in the cache for busy nights. This recipe, with its zesty (perhaps a little spicy) mix of flavors is a favorite.
They're nachos! They're wontons! And they are baked too, so you don't have to feel so guilty about indulging in these itty bitty appetizers. Dip 'em in salsa.
4. Cinnamon Roll Spiced Cupcakes
Delicate little cupcakes that taste of cinnamon rolls? Swoon. Apparently you agreed too.
I fell in love with black lentils last winter, and this rich but healthful salad was one of my favorite ways to enjoy them. It's got so much good stuff in it — and so much flavor.
Who doesn't love a little macaroni and cheese once in awhile? This decadent dish was creamy and filled with bits of spinach too.
Changing up your breakfast routine with healthier options? Then you might want to try this popular sweet-tart recipe from last year.
One of the most frequent things I hear from families is that they want more quick and easy recipes for dinner. This meatballs and peppers pairing with an Asian twist was pretty popular — I think because it's quick and easy and it's different too.
Do I even need to guess why this was a popular recipe? Philia from Sweet Phi guest posted in early summer while I was moving, and this mouthwatering recipe was an instant hit with readers.
One of my son's favorite recipes, and the one that got my daughter to eat butternut squash again … I was happy to see this one make the top 10!