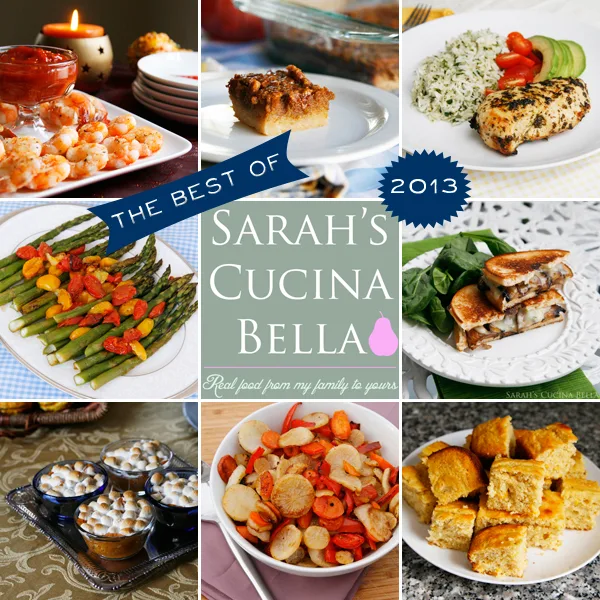 Can you believe we've reached the end of 2013? This year has been an incredible one — filled with healing, hope, rebuilding and joy. As I look back, I am struck with just how full this year was. We traveled a little — taking an epic road trip to Disney World. We found new routines and made tough schooling decisions that ultimately served the best interests of each individual child. And I stepped way outside my comfort zone, volunteering to be a Girl Scout leader (which I LOVE!) and becoming a Sunday School teacher at our church.
Here on SCB, our busier schedules (which include more sports for the kids too!) have meant a renewed focus on quick and easy recipes particularly for dinners, which you will probably see a lot more of in 2014. Classic recipes got fun makeovers as well — like in my hit Roasted Shrimp Cocktail recipe (see below). And I had a blast with back to school, holiday recipes and especially Thanksgiving ideas this year.
Of course, it wasn't a year without challenges. But frankly, there has been so much good that it's easy to not dwell on it too much.
As we get ready to welcome 2014, I hope you have a wonderful New Years celebration and have enjoyed all that 2013 has brought to SCB. Here's to a great 2014.
Now … onto the top recipes of this year.
Top 10 Recipes on SCB in 2013
So what were the top 10 most popular recipes on SCB in 2013? To find out, I turned to Google Analytics, a tracking program that allows me to see how many folks visit each page on my site. These recipes are ranked in order of which had the most views this year.
1. Quick Homemade Taco Seasoning
I've been making my own taco seasoning for years, and shared a recipe a few years ago that I used often. But in a pinch last winter, I simplified the recipe a little and shared the new (even easier!) version. It was a huge hit. If you are a fan of tacos, do try my Quick Homemade Taco Seasoning.
2. Cilantro Lime Chicken and Rice with Avocado and Tomatoes
My mouth waters at the mere thought of this recipe. Super flavorful chicken breasts are served with seasoned rice, tomatoes and creamy avocado. It's a quick and easy recipe for a whole meal — which undoubtedly led to the popularity of Cilantro Lime Chicken and Rice with Avocado and Tomatoes. Have you tried it?
3. Roasted Daikon Radish, Carrots and Peppers
Roasted veggies are among my favorite foods, and this dish — which features the popular daikon radish — was a huge hit among readers. The sweet balsamic vinegar adds a lovely richness to these toasty veggies.
4. Roasted Shrimp Cocktail with Spicy Sriracha Cocktail Sauce
Classic shrimp cocktail is always a party hit. But this update on the classic really takes it to a whole new level. Flavorful seasoned shrimp are served with a spicy homemade cocktail sauce. Yum.
5. Roasted Portabella Mushroom Grilled Cheese
Melty, gooey cheese and meaty roasted portabella mushrooms combine in this grown-up take on a childhood favorite.
6. Roasted Asparagus with Grape Tomatoes
When I first made this dish, it was just something I threw together because I thought it would look pretty on the holiday table. But when my guests dug in and raved, I realized I'd tapped into something pretty awesome — a simple but absolutely delicious take on spring flavors.
7. Mini Sweet Potato Casseroles
When you want that classic sweet potato casserole but don't want a huge tray of it, these individually portioned sweet potato casseroles are the perfect solution. And if your family is like mine — where the sweet potato haters out number the lovers — then it's a great option for indulging those who do love this holiday recipe.
8. Banana Cornbread with Honey
Banana bread or cornbread? Combine them with this tender crumbed recipe. It's delicious served with a spicy chili.
9. Easy Raspberry Swirl Cheesecake
Cheesecake that's easy? Score! This fluffy cheesecake is swirled with a sweet raspberry topping. It's decadently wonderful.
Pumpkin pie meets pecan pie. Need I say more?
And 5 More Recipes I Loved to Share
In addition to the top 10 recipes ranked by traffic, I also wanted to share five recipes that weren't quite as popular — but were still super delicious. I loved these five recipes that I shared this year.
1. Lobster Salad with Avocado, Feta and Lemon Vinaigrette
This salad is my number one favorite recipe creation from 2013. While lobster has also meant something buttery, rich and decadent, this rethinking of how lobster is enjoyed totally brought this classic New England favorite into a healthier modern New England recipe.
2. Salsa con Queso Macaroni and Cheese
Sometimes all you want is great comfort food, and this tangy macaroni and cheese recipe that combines a delicious homemade Salsa con Queso sauce with traditional baked macaroni and cheese totally hit the spot. I even made a cooking video to go with it.
3. Sauteed Leeks with Bacon and Lentils
Sure, this isn't the prettiest dish ever. But the flavor of this tasty, auspicious New Year's inspired dish cannot be beat. In fact, it might just need to hit the table again this week.
4. Homemade Strawberry Lemonade Slushies
I love lemonade slushies — particularly ones that fall a little on the tart side with a sweet drizzle. This recipe was mirrored after a favorite slushie, and is so darn refreshing.
5. Miso Salmon
And last, but not least, this recipe — from a cookbook I was sampling — is among the richest, most satisfying and wonderful salmon dishes I have ever had. It's so good that my kids practically licked their plates clean each time I made it. And we made it several times.
Now, share! What were your favorite recipes of 2013? Did you try any of these SCB hits?