Rich and decadent, this pasta recipe for Roasted Vegetable Pappardelle with Creamy Pesto Sauce is perfect for special occasions — or anytime you want a comforting dinner.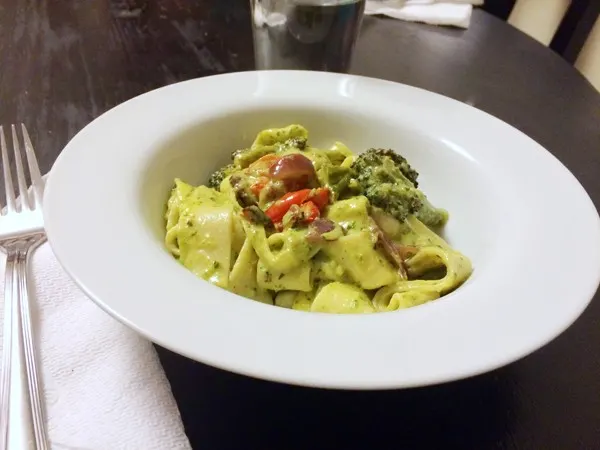 When my alarm goes off in the morning, more than an hour before the sun will rise, a part of me wants to just forget it. Ignore it. Roll over and just sleep until I awake naturally. You can probably relate … heck, you probably face a similar dilemma in the mornings. You want to rest more, but there's too much to do, too many dishes to wash, too many responsibilities to attend to. In the end, almost everyday, I heed the shrill call and, eventually, rise to make coffee and start my day.
For me, that time is essential. In those quiet hours before the kids wake up, after the coffee is sipped and the dishes washed, I write and schedule favorite posts to share on social media. I do things that I won't have time for otherwise. I also sometimes pop around the internet reading interesting stories. That time is reserved just for me.
The rest of the day is busy with parenting duties, work responsibilities and life. My to-do lists have gotten so long that I just stopped making them, and instead try to do as much as I humanly can. But there's always more. Always other things that I make a semi-conscious decision to put off. Some of it is housework … the kitchen floor needs washing, but helping the kids study for tests and doing the laundry is more important. Other things play more into my creative side. The list of projects I want to get to grows all the time, but it's impossible to do it all.
Meanwhile, there's life to attend to. It's busy and filled, but I wouldn't have it any other way. It's also happy and exciting and stuffed with new experiences. I love the little life the kids and I have forged here in Maine. It's just right.
Still, the busyness of our days is exhausting. By the time I pick up the kids and head home in the evening, all I want is to shed my work clothes, find my coziest pajamas and curl up. Sometimes, that's what I do. The kids and I opt for the simplest of dinners and just relax.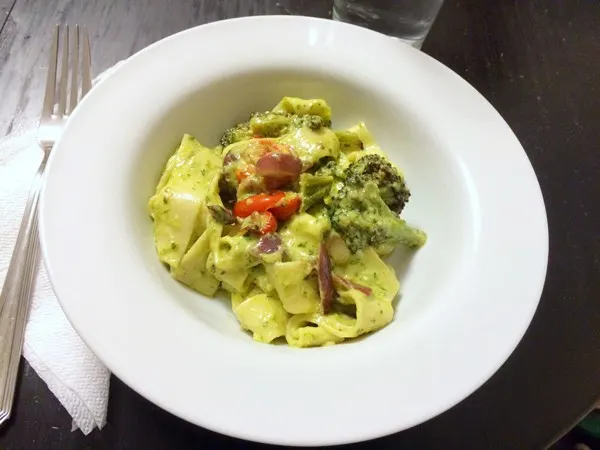 But some nights, when the stars align, there's time and energy to spending in the kitchen cooking and I whip up something like this recipe for Roasted Vegetable Pappardelle with Creamy Pesto Sauce.
Lots of veggies, roasted until they are creamy and tender. For some, like red onions and shallots, it renders them sweet like candy. For other veggies, like grape tomatoes, it brings out a pleasant acidity that is a lovely compliment to the creamy broccoli and other flavors.
Then you make the sauce. It's a little decadent but this is a once-in-a-while dish, so you don't blink as you melt butter in a pan and whisk in flour and then heavy cream. Once it heats a bit and thickens, you add in the pesto sauce. The result is a creamy sauce with the bright flavors of basil and garlic. It's a mellower version of the pestos you love so much in the summertime.
And then, when the wide pappardelle pasta noodles are cooked, you mix it all together, creating a rich, creamy dish that you can't wait to dig into.
Or, at least that's how it goes for for the kids and me.
Then you dig in together, talking about all the things that kept you busy during the day — the learning
Roasted Vegetable Pappardelle with Creamy Pesto Sauce
Ingredients
2-3 cups broccoli florets
2 cups grape tomatoes, , halved
1 red onion, , quartered and sliced
1 shallot, , quartered and sliced
2 tbsp olive oil
salt and pepper to taste
Sauce
1 tbsp unsalted butter
1 tbsp all purpose flour
1 cup heavy cream
1 cup basil pesto
Pasta
1 package parrardelle, , prepared
Instructions
Preheat the oven to 375 degrees. Spread the veggies over it and drizzle with olive oil. Sprinkle with salt and pepper and toss well. Bake for 15 minutes and then stir and bake for another 10-15 minutes until caramelized.
When the veggies are just about done, melt the butter in a small sauce pan. Whisk in the flour until well combined. Pour in the heavy cream a little at a time until fully incorporated. Continue to cook over medium heat, whisking occasionally, until thickened. Whisk in the pesto. Remove from heat.
In a large bowl, stir together the prepared pasta, roasted veggies and pesto cream sauce until fully combined.
Serve immediately