Light and delicate, Asparagus and Carrot Ribbon Salad is a lovely salad to make on late spring days. Serve it with something warm that's crispy or crunchy. The variation in textures and temperatures is delightful.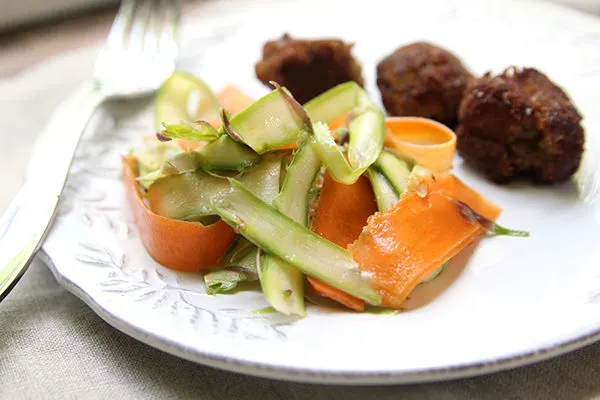 When the sun streamed through the windows on a recent morning, I wasn't sure where in the morning we were. Was it time to get up? Probably not, I assured myself. A quick glance at the time showed me I was correct. In our part of Maine, the sun rises before 5 am in the warmest months — today sunrise happened at 4:49am — and remains up until well after 8pm. That means that sometimes you wake to complete daylight but still have hours left to sleep.
These long days are such a change from the so-short days of winter when sunrise happens after 7am and sunset is before 4pm. When we first moved here, I was startled by how long the summer days were (and how short winter days were). But after nearly four years, I have come to appreciate the contrasts of summer and winter.
In summer, we soak in as much daylight as we can so that we can get through those dark, cold, snowy winter days and nights. We also enjoy as much fresh, just-picked produce as we can.
The farmers' market has been a treasury of late spring vegetables here — early greens, asparagus, rhubarb, varieties of onions. And meanwhile, our garden keeps on growing with impressive fierceness. The compost that the community garden provides to assist with our endeavors certainly helps.
This is my favorite time of year.
Eating well from local sources becomes a cinch in late spring, summer and early fall. Dishes are light and fresh. By the end of summer, we'll be eating sliced tomatoes drizzled with olive oil and balsamic vinegar on a nightly basis. But more than that, it's the season of freedom. The warmth means we can throw open the windows and enjoy fresh air. Soon, the kids will get out of school and their days will be filled with outdoor play, enriching camps and fun.
And maybe, just maybe, I will have a chance to recharge a bit too.
This salad is a perfect example of good, easy food for late spring days.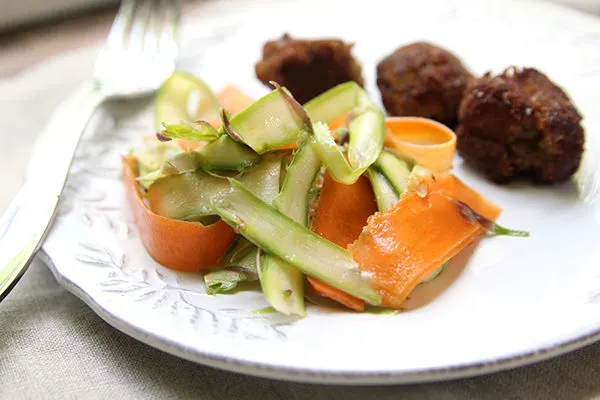 Asparagus and Carrot Ribbon Salad is light and refreshing. It's a delicate salad with delicate flavors that works well with something crispy and warm served alongside. The sweet, crisp carrots and earthy asparagus are complimented by a rich but not overwhelming vinaigrette.
When shopping for this salad, you want to find thick stalks of asparagus. At this time of year, that's what's most available in our farmers' markets here … and probably in the grocery stores too. Thin ones, while lovely, will be too difficult to cut into ribbons. They are better suited to roasting and using in stir-fries.
As for the carrot, I used a ridiculously thick one, and I cut the strips in half so they didn't overwhelm the asparagus. This is best made with thin carrots. The shreds are mixed together.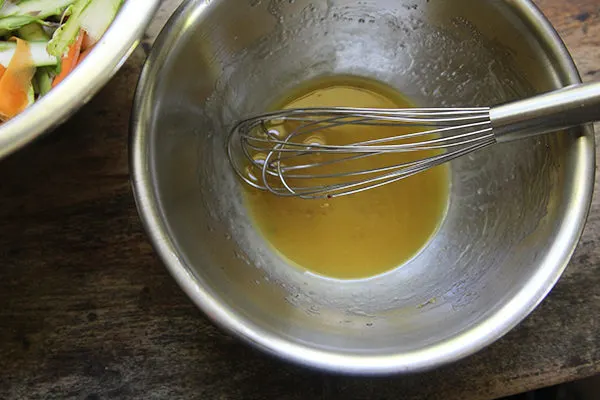 The vinaigrette is simple to make and yields just enough to dress this salad. Tangy red wine vinegar, a good olive oil, grainy mustard and honey are whisked together and then poured over the asparagus and carrots.
Easy, fresh, lovely … Asparagus and Carrot Ribbon Salad.
Do you like asparagus?
Asparagus and Carrot Ribbon Salad
A delicate and refreshing dish, Asparagus and Carrot Ribbon Salad is lovely served in spring with something crispy.
Ingredients
1/2 lb thick stalks asparagus, , ends trimmed
1 cup shredded carrot
1 tbsp red wine vinegar
1 tbsp olive oil
1/2 tsp honey
1/8 tsp grainy mustard
Salt and pepper, , to taste
Instructions
Using a vegetable peeler, cut long, thin, ribbon-like strips of the asparagus. Combine the asparagus and carrot in a large mixing bowl.
In a small mixing bowl, combine red wine vinegar, olive oil, honey and mustard. Whisk well to combine.
Pour the vinaigrette into the bowl with the asparagus and carrot. Toss well.
Taste and season with salt and pepper, as desired.