Robust and luxurious, this Buttery Lemon Shrimp Pappardelle is a lovely dinner for any night of the week. Plus! Learn how to defrost shrimp quickly.
Mouthfeel is something that matters tremendously to me. It's why I adore smooth, flat noodles like pappardelle, which have a luxurious mouthfeel. It's also why I avoid squirmy, small elbow noodles. In fact, when I make homemade mac and cheese, I almost always use shells instead of elbows.
This dish — Buttery Lemon Shrimp Pappardelle — has a lovely mouthfeel. Those wonderful pappardelle noodles are bathed in a buttery, garlicky, lemony sauce. Specks of parsley dot the dish. And meaty shrimp finish it off.
It's full of robust flavor, but also silky and smooth. This is the kind of dish I like to curl up with while watching a movie with my kids.
How to defrost shrimp quickly
I don't know about you, but I often forget to defrost things for dinner. Fortunately, I have a few tricks up my sleeve. And this trick to defrost shrimp quickly is one of my favorite ones.
Place frozen shrimp in a colander. Place it in the sink and run cool water over the shrimp, shaking the colander occasionally to move the shrimp around. In about 10 minutes, the shrimp will be defrosted.
Dry them (I usually spread them on a paper towel) and then use as needed in recipes. So easy!
How to prepare this dish, step by step
To make this, start by preparing the roasted sauce and shrimp portion of the dish. Lemon, butter, salt, pepper, garlic and shrimp are combined in an oven-safe dish and baked till perfectly cooked.
Then the shrimp and sauce are tossed with the prepared pappardelle noodles.
Fresh minced parsley is mixed in too. Parsley is an herb that doesn't get enough respect for its fresh, vibrant flavor.
And then it's ready to serve. Delightful. I like to finish it off with a sprinkle of romano or parmesan cheese.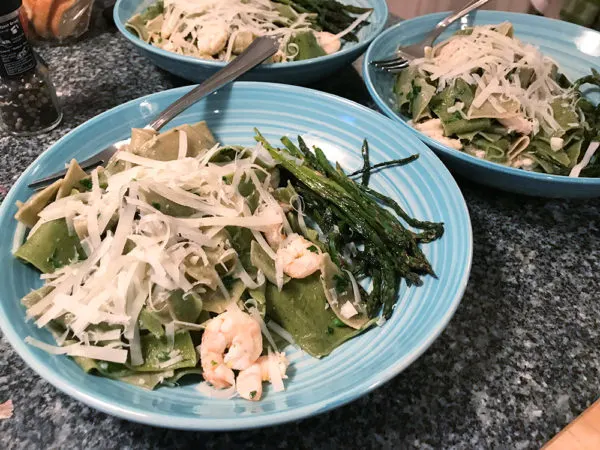 This is delightful served with roasted asparagus. And why not make a Lemon Raspberry Bundt Cake for dessert?
Buttery Lemon Shrimp Pappardelle
Luxurious pappardelle noodles are bathed in a rich buttery lemon sauce with garlic and tossed with shrimp and fresh parsley. It's delightful!
Ingredients
1/4 cup unsalted butter, melted
1 lemon, juiced
1 tsp Kosher salt
ground black pepper
1 lb raw large shrimp, peeled and deveined
6 cloves finely chopped garlic
8 oz. pappardelle noodles (one package -- it's okay if it's a little more than 8 oz.)
1/4 cup freshly chopped parsley
(Optional) freshly grated parmesan or romano cheese
Instructions
Preheat the oven to 400 degrees Fahrenheit.
In a oven-safe baking dish, combine the butter, lemon juice, salt and pepper. Stir lightly to combine.
Add the shrimp and garlic to the dish. Bake for 20-25 minutes, stirring once or twice, until the shrimp are cooked through.
Meanwhile, cook the pappardelle according to package directions.
Toss the pasta with the shrimp mixture (including juices) and the parsley.
Enjoy!
Nutrition Information:
Yield:

4
Serving Size:

1
Amount Per Serving:
Calories:

286
Total Fat:

13g
Saturated Fat:

7g
Trans Fat:

0g
Unsaturated Fat:

5g
Cholesterol:

76mg
Sodium:

615mg
Carbohydrates:

36g
Fiber:

1g
Sugar:

0g
Protein:

7g
Nutritional information is provided for informational purposes only but its accuracy is approximate.