Roasted cauliflower, crisp bacon, vibrant red onion, lovage and parsley, a sweet-tangy dressing: that's Roasted Cauliflower Salad with Bacon and Lovage.
Over the years, I have roasted cauliflower dozens of ways — combining it with sharp cheeses, tossing it with creamy-spicy mixtures and letting it mingle with cured meats. All are delicious.
But most often, in my house, we turn to the simplest of preparation: toss the florets with olive oil and season with salt and pepper. And then roast until they have bits of brown on the outside and a creamy, tender inside.
That's not to say we don't enjoy it all those other ways. We do. In fact, sometimes that simple preparation combined with some vibrant other ingredients makes the best roasted cauliflower dish of all.
I like to think that's the case with this Roasted Cauliflower Salad with Bacon and Lovage.
This dish is inspired by German Potato Salad, taking much of the flavor cues from that beloved summer salad recipe. However, instead of potatoes, there's cauliflower.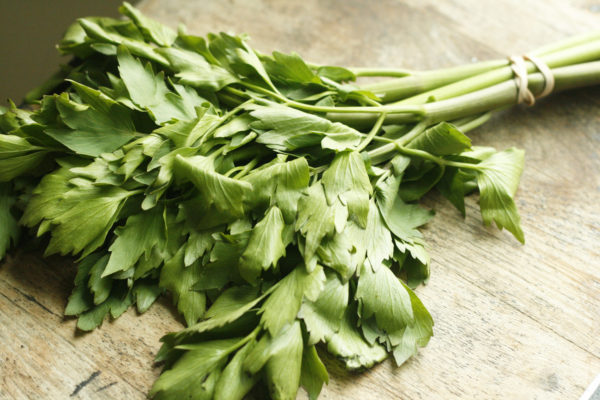 And the herb lovage, which tastes like celery without the stringy texture, joins the mix.
Start by roasting the cauliflower. A little drizzle of olive oil and sprinkle of salt and pepper is all it needs. The cauliflower roasts at a higher temperature, undisturbed for 20 minutes. After you stir it, it roasts longer until it's creamy on the inside and browned in spots on the outside.
This gives the cauliflower great flavor and texture.
Now comes the mixing.
Stir the roasted cauliflower with the bacon, onion and herbs. Drizzle in the vinaigrette you've whipped up. Let it all mingle together. This is one of those salads where the flavor improves if you let it rest a bit, allowing the vinaigrette to really mingle.
This salad is delightful for serving with whatever you're barbecuing. Or enjoy it alone. It's a fun, flavorful new take on a classic favorite.
Roasted Cauliflower Salad with Bacon and Lovage
Ingredients
1 large head cauliflower, cut into 1-inch florets
1 tbsp olive oil
Salt and pepper
6 slices bacon
½ cup finely chopped red onion
2 tbsp finely chopped lovage
2 tbsp finely chopped Italian parsley
2 tbsp olive oil
2 tbsp apple cider vinegar
1 tsp honey
½ tsp mustard powder
½ teaspoon paprika
Instructions
Heat oven to 425°F. Spread cauliflower in a single layer on a nonstick cookie sheet and drizzle with olive oil. Sprinkle with salt and pepper; toss well. Roast for 20 minutes. Stir and then roast for 5 to 10 minutes longer or until tender and golden brown.
Meanwhile, in 10-inch skillet, cook bacon over medium heat until crisp. Remove with a slotted spoon to a paper towel-lined plate.
In large bowl, toss roasted cauliflower, bacon and onion. In small bowl, beat oil, vinegar, sugar, mustard and paprika with whisk until smooth. Pour dressing over cauliflower mixture; toss to coat. Season with salt and pepper to taste. Cover; refrigerate at least 1 hour until chilled or overnight.