Light, tangy and with a hint of celery flavor, this Easy Oil and Vinegar Coleslaw recipe is a delightful side dish for lunches and dinners.
Traditional coleslaw is the salad of summer picnics and sunny days. It's the thing we pile beside hot dogs on colorful paper plates. But sometimes you want a different slaw — one that's free of the sweet and creamy dressing that traditional coleslaw is known for.
There's a barbecue joint near us that makes a great coleslaw without mayo. With a vibrant flavor and delightful crispness, it pairs well with the saucy barbecue foods the joint serves.
I had that coleslaw in mind when I was updating my recipe for Easy Oil and Vinegar Coleslaw. A version of this first appeared in a newspaper column I used to write. But, with some revisions, I've improved the flavor and created a coleslaw worthy of your favorite sandwiches, skillet burgers, barbecue and more.
This coleslaw begins with thinly sliced green cabbage. You don't need a whole head — just four cups of it (that was about 1/3 of my smallish cabbage). You'll also need a cup of shredded carrots (that's about two small carrots) and a 1/4 cup of finely chopped fresh parsley (do not use anything but fresh parsley in this recipe. Dried parsley won't have the same result).
All of that goes into a bowl.
Next, you make the oil and vinegar dressing. Red wine vinegar, olive oil and honey are whisked together with salt, pepper, celery salt and dry mustard for a tangy, bright dressing for this salt. It's delightful.
Finally, the veggies and the dressing are tossed together. Perfection.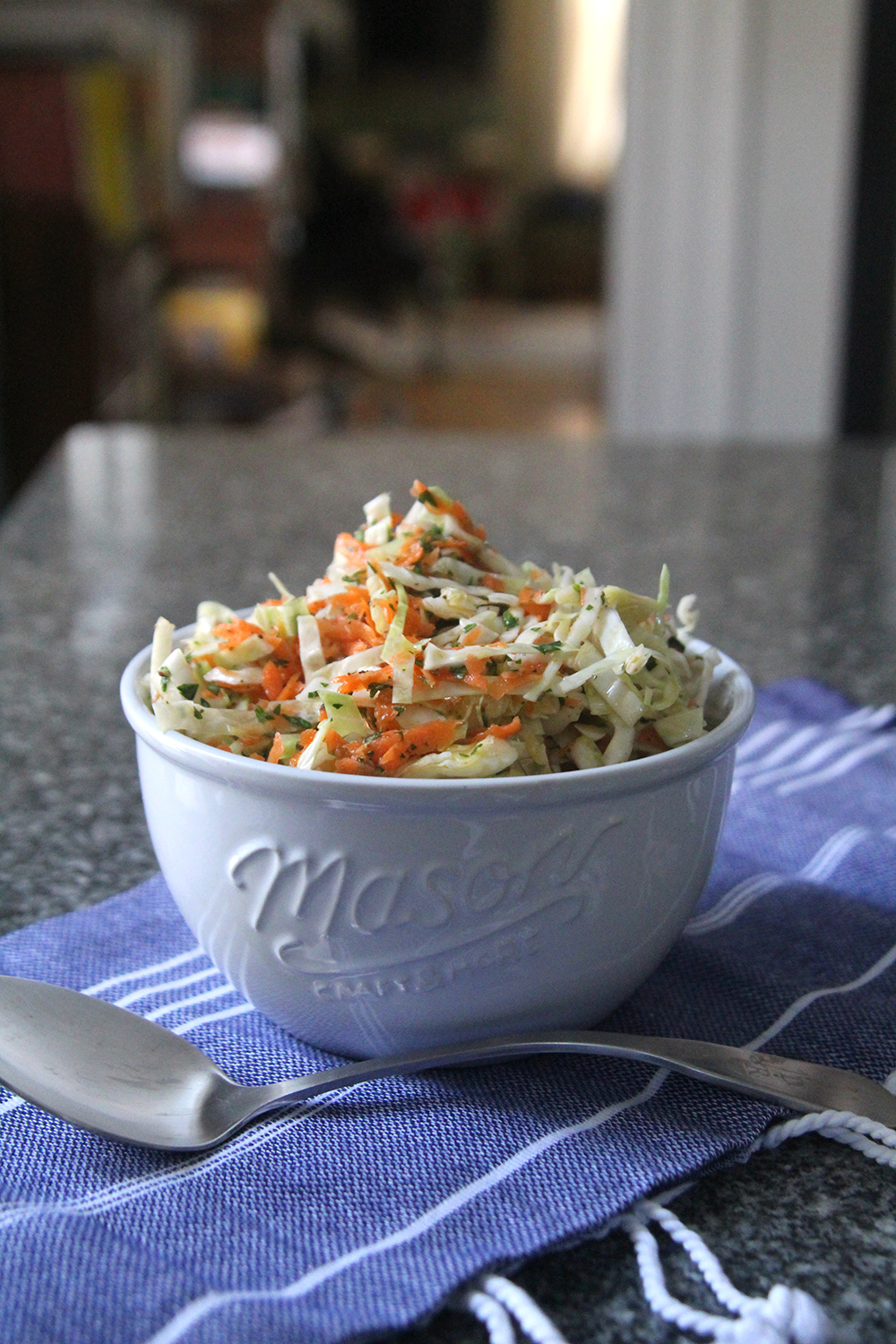 This recipe is easy enough for the most novice of cooks to make as long as they are comfortable with a knife. The most complicated part is the cutting of the cabbage and shredding of the carrots.
Once the Oil and Vinegar Coleslaw is done, give it a few minutes to rest. This will let the flavors meld together a bit.
All that's left to do is decide what you'll eat this with. This lovely, tangy, easy Oil and Vinegar Coleslaw is perfect served with so many things — burgers, sandwiches, barbecue, you name it.
Leftovers of this delightful Oil and Vinegar Coleslaw should be stored in an airtight container in the refrigerator. They'll last for up to five days — if you don't finish it sooner.
I think you'll probably finish it before then though.
Oil and Vinegar Coleslaw Recipe
Fresh and light, this Oil and Vinegar Coleslaw recipe is easy to make and delightful served with everything from sandwiches to burgers to barbecue.
Ingredients
4 cups shredded cabbage
1 cup shredded fresh carrots
¼ cup chopped fresh parsley
Dressing
⅓ cup red wine vinegar
2 tbsp olive oil
1 tbsp honey
1 tsp salt
½ tsp ground black pepper
1/4 tsp celery seed
1/8 tsp dry mustard
Instructions
Add the cabbage, carrots, and parsley to a large mixing bowl. Stir well to combine.
In a small mixing bowl, whisk together the vinegar, olive oil, honey, salt, pepper, celery seed and dry mustard. Pour over the vegetables and toss well to combine.
Let sit for a few minutes before serving, or chill until ready to serve.