Cakes and breads and dinners and sandwiches, oh my! Here's a look back at the best new recipes of 2016 on Sarah's Cucina Bella.
Dear readers, thank you so much for following along with my kitchen endeavors and new recipes in 2016. Now that 2016 is officially behind us, I've dug through the numbers (as in how many pageviews each post received) to find the 10 recipes that were most loved last year.
From classics to spins on classics, breads to decadent cakes and some healthier recipes too, it was a delicious year. I can't wait to share more recipes and cooking advice with you in 2017.
10. How to Roast Garlic
Oh, the savory, slightly sweet flavor of roasted garlic. It's good in pastas, on bread, mixed into dips and so much more. And, although it takes a little more than an hour to make, it's so easy too.
RECIPE: How to Roast Garlic
9. How to Make a Killer BLT Without Mayo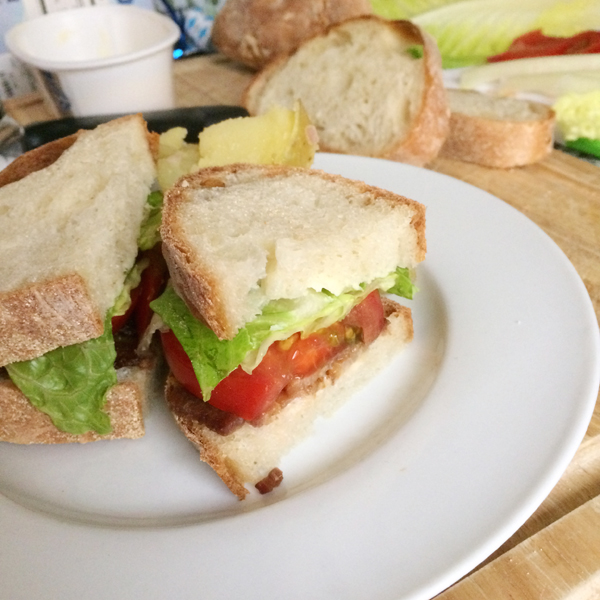 The combination of bacon, lettuce and tomato on bread is a delightful classic that's fabulous on those August days when juicy tomatoes are ripe in the garden. But how do you make a great one? And how do you make it great without mayo? Ahh, the great mysteries of life, solved.
RECIPE: How to Make a Killer BLT without Mayo
8. Garlic Dill Chicken
Chicken is marinated in a tangy, fresh garlic, dill and white wine vinegar marinade. Then it's sliced thinly and piled on little rolls with lettuce and tomato for fun little sliders perfect for lunch or dinner. Or not. This flavorful chicken can be enjoyed so many ways. Just slice the chicken and enjoy it on a salad or with some mashed potatoes gives chicken breasts big flavor for these Garlic Dill Chicken Sliders with Lettuce and Tomato.
RECIPE: Garlic Dill Chicken
7. Sweet Potato Salad with Pancetta and Red Onions
Tangy German potato salad meets nutritious sweet potatoes in this tasty salad. The natural sweetness of the potatoes is balanced with smoky, crispy pancetta, robust red onions and a crisp, tangy dressing. Yum.
RECIPE: Sweet Potato Salad with Pancetta and Red Onions
6. Strawberry Iced Tea Lemonade
Arnold Palmers. Half and Halfs. Whatever you want to call them, the combination of iced tea and lemonade makes for an alluring, refreshing drink. And it's even better when you add strawberries into the mix.
RECIPE: Strawberry Iced Tea Lemonade
5. Lemon Garlic Marinade
Marinating chicken is a great way to give it great flavor. And this 30-minute marinade with lemon, garlic, rosemary and more is my go-to for busy nights when I just want to make some good, flavorful chicken for dinner.
RECIPE: Lemon Garlic Marinade
4. Easy Creamy Watermelon Drink
This sweet, creamy, simple drink is one of my kids' very favorites. And I call it a drink because because it's not thick enough to be a smoothie and it doesn't qualify as a juice since it has yogurt in it. But whatever — it's just plain refreshing and good.
RECIPE: Easy Creamy Watermelon Drink
3. Chocolate Overload Cake
Chocolate cake with chocolate frosting, chocolate ganache and chocolate covered potato chips on top? Yep. It's chocolate overload — and it's so tasty too.
RECIPE: Chocolate Overload Cake
2. Peanut Butter Banana Bread
If you love the flavors of peanut butter and banana together (I do!), then this easy quick bread is for you.
RECIPE: Peanut Butter Banana Bread
And … drum roll, please!
1. Easy Puff Pastry Cinnamon Rolls
What if homemade cinnamon rolls didn't have to be an hours long ordeal making them? What if you could make a small batch of them, stuffing them with cinnamon, sugar, raisins and pecans, and have them ready pretty quickly? You can! This recipe uses puff pastry dough to make tasty, tender, sweet cinnamon rolls perfect for breakfast.
RECIPE: Easy Puff Pastry Cinnamon Rolls