Quick and easy Roasted Brussels Sprouts are the perfect side dish recipe for busy evenings. If you're a Brussels sprouts lover, try these.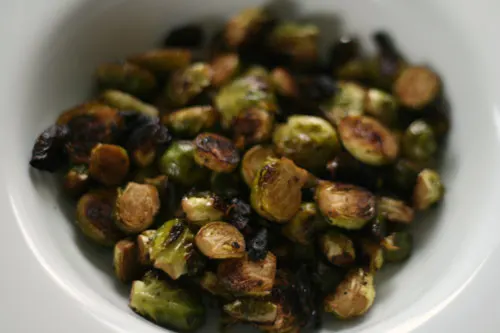 It's no secret that I absolutely love Brussels sprouts. When grown and cooked right, they are slightly sweet and a little nutty. Divine.
In case you are wondering what I mean by grown right, Brussels sprouts should stay on the stalk until two frosts have passed. It's the frosts that let them develop that slightly sweet flavor.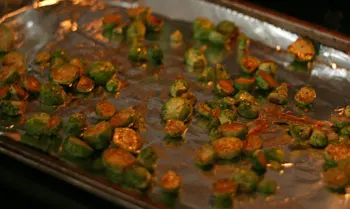 Now, roasted Brussels sprouts? Awesome. The roasting brings out a wonderful nuttiness. But usually, roasting can take the better part of an hour to cook with certain methods. That's just too long for me.
Call me impatient, but I value time-saving measures.
That's exactly why I started cooking them on the stove. But I had a thought … if I spread the sprouts out on a baking sheet instead of crowding them in a small casserole, then they cook faster.
So I did, and they were perfect. The nuttiness came through without having to wait forever for them.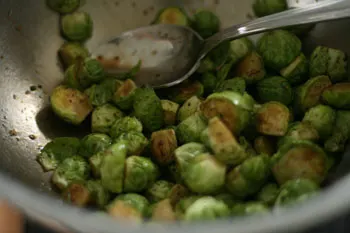 Seasoning matters when you make anything. These are tossed with just a little balsamic vinegar and olive oil, with a sprinkling of salt and pepper. It's simple, easy and perfect. The flavors complement the sprouts without overwhelming them.
I devoured them. Will devoured them. Yes, my four-year-old loves Brussels sprouts too. He even tried to convince me to save a few for later for him. I told him we would just make them again.
Very soon.
With Thanksgiving approaching rapidly, these would also make a great easy side dish to go with the traditional trimmings.
Quick and Easy Roasted Brussels Sprouts Recipe
Ingredients
1 container Brussels sprouts, (about 1 1/2 cups)
1 tsp extra virgin olive oil
1 tsp balsamic vinegar
salt and pepper
Instructions
Preheat the oven to 450 degrees. Line a baking sheet with aluminum foil.
Remove the ends of the Brussels sprouts and any bruised outer leaves. Halve the sprouts and place in a large bowl. Add olive oil, vinegar, salt and pepper and toss to coat. Pour the Brussels sprouts onto the baking sheet in a single layer. Be careful not to crowd them.
Cook for 10-12 minutes, stirring once, about halfway through.
More Brussels Sprouts Recipes