Caramelized and tender, this recipe for Easy Roasted Delicata Squash is a lovely way to enjoy this hard squash. Also, learn everything you need to know about how to prepare delicata squash.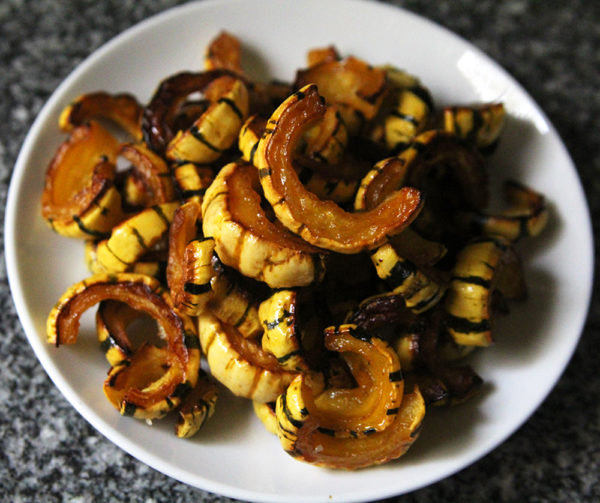 Whenever I encounter a vegetable or fruit I haven't seen before at the farmers market, I ask the farmers how they like to eat it. Doing so has netted me so much good information. That's how I learned about lovage, for instance, which tastes like celery but is used like an herb. It's also how I learned a little more about delicata squash recently.
One of the farmers at my local market had the cutest little squashes and other veggies. They were all just smaller versions of their larger brethren. I kind of wanted to buy everything, but it was the delicata squash that came home with me. They were so cute.
Delicata squash is — technically speaking — a summer squash. However, since it is a hard squash (not unlike acorn or butternut) and is available in fall, it's often considered a winter squash. This squash is lovely roasted, as in my Roasted Delicata Squash recipe.
It's funny how we classify things, isn't it? We don't think of avocados, tomatoes and squashes as fruits but they are. And we draw these seemingly arbitrary lines between what is a summer squash versus a winter one. It reminds me of the English language with its steadfast rules that all seem to have exceptions.
In any case, the important thing is this: if you aren't eating delicata squash yet, you should be. The flavor is all the best things about butternut and acorn squashes with hints of pumpkin and maybe even apple thrown in. So good.
Before I share with you the easy roasted delicata squash recipe that will make you as gaga for this squash as I am, I wanted to answer some questions I had and seem to be pretty common.
Do You Have to Peel Delicata Squash?
No! Delicata squash, like summer squash and zucchini, has a thin skin that's completely edible, a farmer at my local farmers market told me. In cooking it, I have found this to be absolutely true. No peeling is necessary.
What Does Delicata Squash Taste Like?
The flavor is a cross between the sweetness of butternut squash and the gentle earthiness of acorn squash with hints of pumpkin and perhaps a little apple. It's pleasant, smooth and lovely.
How Do You Pick a Good Delicata Squash?
Ripe delicata squash is yellow in color with green stripes along ribs. It should be firm and heavier than you expect it to be. Avoid delicata squash that is light green (it's unripe) or ones with lots of off-color spots. Modern Farmer says you should look for a delicata squash that is lighter in color, as that means it's fresher. When the squash becomes orange, it's older.
How to Cut Delicata Squash
Delicata squash is easier to cut than, for instance, acorn squash. But before you get started, always wash the squash thoroughly to remove any dirt residue. No one wants to eat roasted dirt, right?
Next, you'll want to remove the ends with a shallow slice. Like butternut squash or spaghetti squash, delicata squash has hard, woody stems. Even with a lot of cooking, it won't be edible. (Would you want to eat it?)
Next, it's time to cut the squash. Use a sharp, large knife to cut the squash lengthwise into two halves.
Use a spoon to scrape the seeds and any sinewy bits from the center of the squash. Before you discard the seeds, do consider roasting them. Roasted squash seeds are delightful.
The squash is ready now. You can use it as halves (for instance, the halves can be stuffed). Or you can slice the delicata squash into 1/2-inch slices for roasting.
Which brings us to …
How to Prepare Delicata Squash for Roasting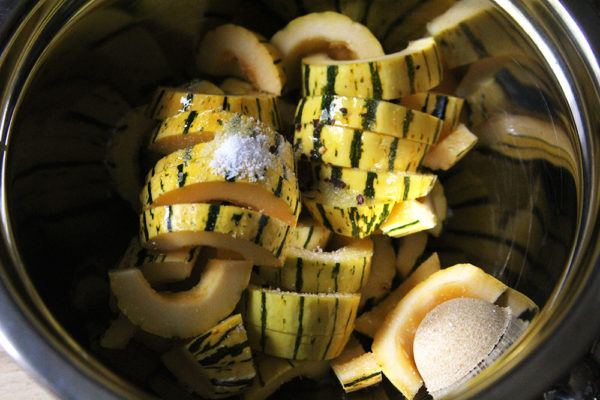 This is how I prepare delicata squash for roasting for the recipe included with this post. But if you wanted to change the seasonings, you could use this method for other roasted delicata squash recipes.
First, toss the slices of delicata squash with olive oil, a sweetener like brown sugar, salt and other spices.
Spread the squash on a baking sheet. Use a spatula to get any leftover seasoning out of the bowl and drizzled onto the squash.
Now, you're ready to bake! Roast the delicata squash at 400 degrees Fahrenheit for 30-40 minutes, flipping once. This is delicious hot from the oven, cooled or reheated.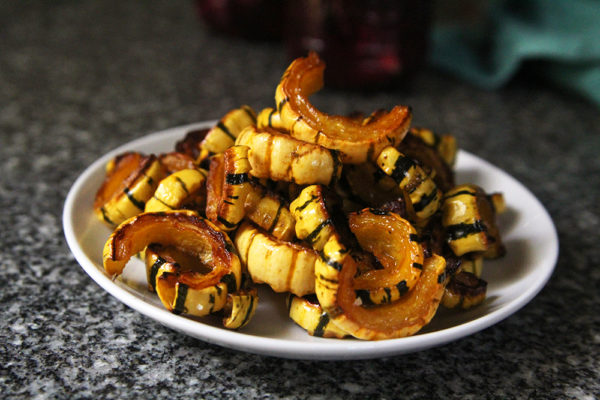 This easy Roasted Delicata Squash recipe celebrates the squash's natural sweetness. I love having this as a side with quinoa or rice. How would you serve it?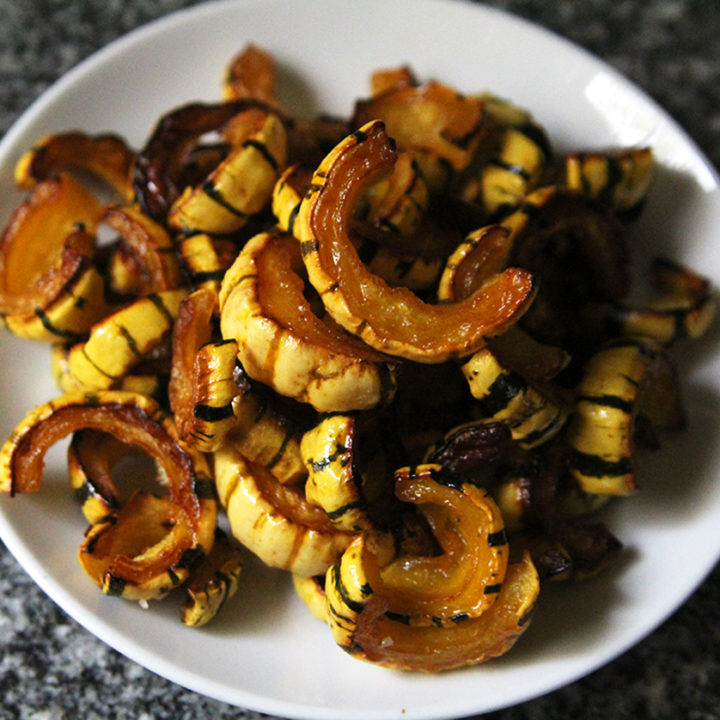 Easy Roasted Delicata Squash
Caramelized and tender, this recipe for Easy Delicata Squash is a lovely way to enjoy this hard squash.
Ingredients
1 1/2  to 2 lbs delicata squash, (about 2-3, depending on size)
2 tbsp olive oil
1 tbsp brown sugar
1 tsp  kosher salt
pinch crushed red pepper
Instructions
Preheat oven to 400 degrees Fahrenheit.
Wash the squash thoroughly to remove any dirt residue. Cut the squash lengthwise into two halves. Use a spoon to scrape the seeds and any sinewy bits from the center of the squash. Slice the delicata squash into 1/2-inch slices.
Toss the slices with olive oil, brown sugar, salt and crushed red pepper. Spread on a baking sheet. Roast the delicata squash for 20 minutes. Flip. Continue roasting for 10-20 minutes, until golden and tender.
Enjoy.
Sarah Walker Caron is a cookbook author, freelance writer and founder of Sarah's Cucina Bella. She is the author of four cookbooks including The Super Easy 5-Ingredient Cookbook and One-Pot Pasta, both from Rockridge Press. A single mother to a tween and a teen, Sarah loves nightly family dinners, juicy tomatoes plucked fresh from the vine and lazy days on the beach. She also adores reading and traveling.