Meal prep got you down? Get back on track with these easy meal prep ideas and quick recipes that will save you time in the kitchen and keep more money in your wallet.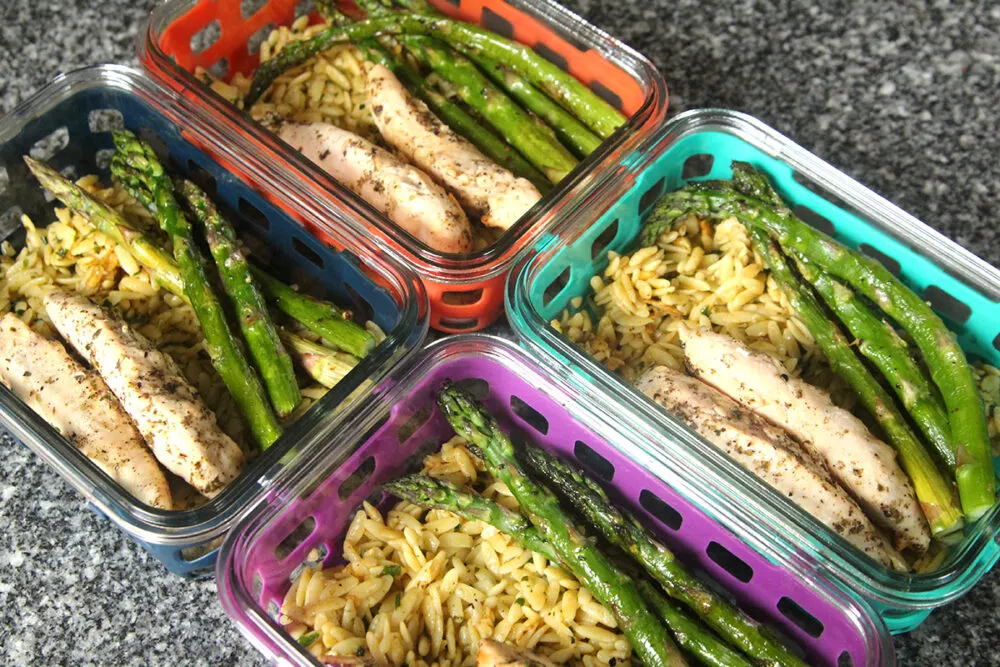 When my kids were very little, I worked at home as a freelance writer. As a result, I was always ready to make pancakes for breakfast or elaborate dishes for lunch. But things have changed over the years. My time isn't so flexible anymore. Likewise, my children have changed too.
They aren't little kids anymore. They are growing teenagers with busy, active lives who need quick meal options as much as I do. And their dietary needs are different from when they were little too. Will, who is 15, runs almost every day. Paige, who is 13, dances.
Left to the last minute, feeding my two active teens can become a critical, stressful thing for all of us. That's why meal prepping has become so important to our daily lives.
If you aren't on the meal prepping wagon yet, it's time to hop on. And even if your home is different from mine, you should still try it. Meal prepping isn't just for busy families like mine — it's for anyone who wants to take the expense, stress and challenge of meals out of the equation. Not convinced? Then you should probably hear about the benefits.
Benefits of Meal Prepping
Here's what I love about meal prepping: By planning a weekly meal prep menu, one item on life's never-ending to-do list is checked off. Mornings are easier because there are grab-and-go lunches ready. Evenings are easier because everyone knows what to expect. And life is easier because a little bit of daily stress is relieved.
And if you, like me, have a couple of growing kids around, family meal prep done together can also be a solid family activity. You impart some food knowledge, they make sure there's foods ready that they like and everyone's happy.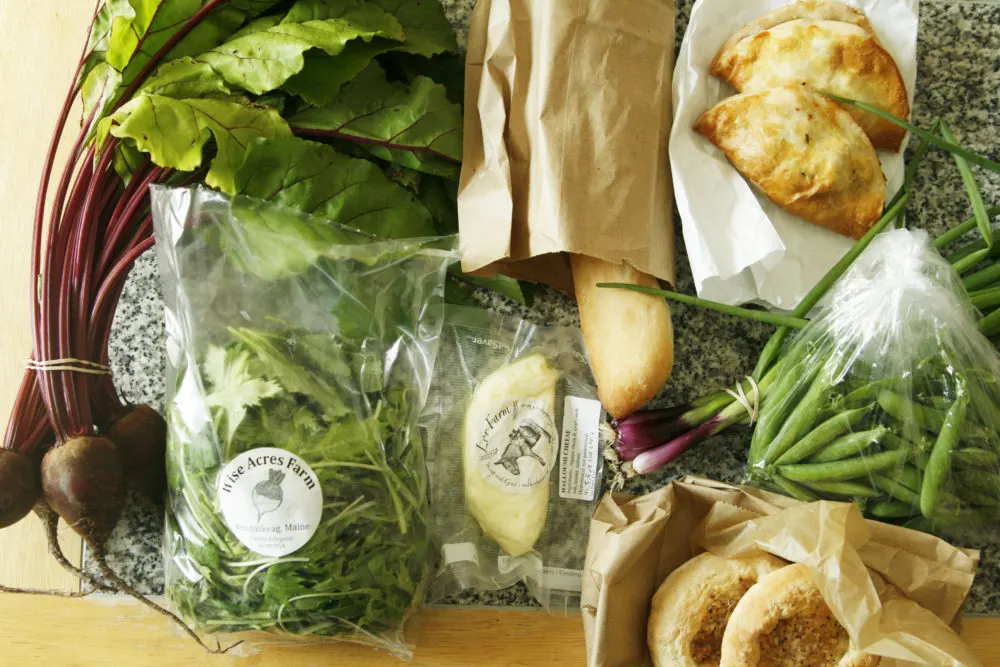 But there are even more benefits to meal prepping. Here's some more tips before we get to the easy meal prep ideas.
1. Save Money
Instead of buying what I think we need or might want to eat, I prepare a shopping list that targets what we need to meal prep. That means buying exactly what we need when we need it. And it still leaves room for stocking the pantry with the items we use often like pasta, flour, sugar and canned tomatoes.
With these easy meal prep ideas, there's also less waste from your kitchen. Why? When you're planning around the foods you will be making, you are buying exactly what you need. In other words, there's less temptation to impulse buy.
2. Save Time
Want get your time back? Me too. Life can be pretty hectic sometimes. But when you've planned and prepped ahead, meals are taken care of ahead of time. Sure, you use a few weekend hours to cook and prepare foods. But you get back time during your busy week, freeing you up to sit down, read, take a walk or whatever it is you like to do to relax. That time saving equals a better quality of life.
3. Eat Healthier
Much like grocery shopping without a plan means impulse shopping, eating without a plan can result in impulse eating. Have you ever stood in your kitchen, munching on chips while trying to figure out what to eat for lunch? Me too! Impulse eating isn't thoughtful. Not even a little bit. When I don't plan ahead, I usually end up waiting to eat until I am starving and go for the fastest option. That's seldom healthy. But with these easy meal prep ideas, healthy is all ready to go.
4. Less Stress
Who couldn't use less stress in their life? Seriously, planning ahead means one less thing on your plate on busy days. Thank you, easy meal prep ideas!
---
49 Easy Meal Prep Recipes to Get You Started
These easy meal prep ideas are prefect for prepping ahead of time. And they cover every meal of the day!
Easy Breakfast Meal Prep Ideas
Sweet beets and carrots, earthy beet greens and savory onions combine with creamy, runny eggs in this easy breakfast bowl recipe. Make the veggie base ahead of time and then all you have to do is fry an egg in the morning to complete!
Portable, easy and so tasty, these use pantry ingredients to make a delicious, sweet breakfast option. They are kind of like oatmeal in muffin form.
Filled with eggs, cheese, bacon and bell pepper, this breakfast quesadilla recipe is something the whole family will love. Make a batch ahead of time, and then reheat them in the microwave for about 30 seconds.
Perfectly portioned and pre-cooked, these flavorful egg casseroles featuring cheese, bacon, veggies and more can be reheated in a minute.
This Ham, Egg and Cheese Bake recipe makes plenty of this delightful breakfast dish to enjoy tonight and to save for later. Plus, with fluffy eggs, savory ham and sharp cheddar cheese, it's a mighty fine meal.
Have you had overnight oats? They can be eaten hot or cold and are a great, nutritious way to start your day. Plus, these have pumpkin in them (perfect for finishing off that partially used can!).
These Mini Bacon, Egg and Cheese Bites take about 20 minutes — total — to make. And making them ahead makes them even more convenient as a quick breakfast — reheat them in the toaster oven or microwave!
Whip up a batch of these Make-Ahead Breakfast Burritos filled with bacon, cheese, veggies and eggs on the weekend, and you can freeze them until you're ready to eat.
These crispy homemade granola bars with a delicious whisper of cinnamon throughout are easy to make with just four ingredients. Perfect for a quick and easy breakfast!
Nutrient packed chia seeds are joined by grapefruit, ginger, coconut, maple syrup and more in this decadent but healthy make-ahead recipe. Pudding for breakfast? Why not!
Chicken Meal Prep Ideas
Since chicken is so popular for lunch and dinner meal prep, I want to include it in a category on its own.
These Quick and Easy Chicken Pizza Wraps take minutes to whip up and are filled with big pizza flavor. Make a batch wrapped in foil for easy, grab-and-go lunches.
Creamy and spicy, Buffalo Chicken Dip is a delightful appetizer that can be stored in the fridge for up to seven days. Make some ahead and have it on hand for pre-dinner munching!
If you like chicken satay, the traditional Thai dish, you'll love this recipe for Satay-Style Chicken with Peanut Sauce. It has all the flavor! Plus, it's great to make ahead for lunches.
This easy, garlicky entree is lovely served with rice or mashed potatoes. With just five ingredients (oil, salt and pepper don't count!), Chicken Snow Pea Skillet is a perfect stress-free dinner — or make-ahead lunch.
Calling all chicken thighs lovers! This sweet-salty chicken recipe includes the sides to make it a meal. Hearty, satisfying and perfect for lunches or dinners!
Chicken is marinated in a Greek-style with lemon, garlic, herbs and spices. Then it's baked to perfection. This Easy Chicken Souvlaki is great in meal prep bowls with Lemon Butter Orzo.
Cilantro lime quinoa! Fajita chicken! Veggies! These meal prep bowls have everything you need for a satisfying make-ahead meal.
Ready in about 30 minutes, this elegant meal couldn't be easier — and Herb Chicken Breasts with Brussels Sprouts Hash and Mashed Potatoes is perfect for eating right away or saving for later. Pack into a meal prep bowl and reheat when you are ready to enjoy.
This bold, cheesy chicken casserole is filled with black beans, corn, salsa and more. Once cooked, you can freeze it for up to three months, defrosting it when you are ready to eat it.
Oh, the flavors in these bowls! Filled with barbecue chicken, sweet red bell peppers, fresh pineapple, red onion and zucchini noodles, they're perfect for preparing ahead of time for a satisfying meal.
This easy recipe for Chicken Bacon Ranch Pasta, filled with a tasty combination of meaty chicken, salty bacon and creamy ranch, is quick and simple and easy to make ahead. Eat this warm or cold.
This is an easy sheet pan meal that becomes a delicious make-ahead meal. Just pack up portions in takeaway containers and store them in the fridge until you are ready to eat (or pack up to eat later in the day).
Quick & Easy Main Course Meals (for Lunch or Dinner)
Easy Spaghetti Squash Chili is a beanless chili with corn that's baked to finish for a filling, satisfying, delicious dinner. Or make it ahead and store portions for eating later. This reheats well.
With just a few ingredients, this easy recipe for stir fry creates a dish perfect for meal prep. And best of all, you can customize it however you want.
Forget the premade cups with paper lids. These Homemade Noodle Cups create portable, vibrant, fresh versions with big flavors. Just add water when you are ready to eat.
This sweet-smoky beef brisket cooks with a rich sauce slowly to fork tender. It's great on sandwiches (add a little cheddar!), nachos and wraps. Make a batch ahead of time, and you'll be ready to eat in minutes on busy days.
Bright flavors come together in these easy, no cooking required, make-ahead bento boxes featuring chicken deli meat, tzatziki and more. How fun and flavorful!
With a variety of flavors and textures, these vegetarian meal prep bowls will keep you satisfied. They even include avocado (and tips for keeping it fresh for a few days).
Peppers, onions, meatballs, a sweet-savory-salty sauce … This meal is great to make ahead for grab and heat meals. Package it with rice or your favorite ancient grain.
Sweet bell peppers, vinaigrette-soaked broccoli, soft but firm pasta and salty olives combine with a sweet-tart homemade balsamic vinaigrette. It's summery, balanced and so fresh.
These satisfying Sesame Noodle Bowls aren't just filled with lots of goodness (salted edamame! chicken! crispy cucumbers! that sauce!). They are also super easy and fast to make.
This sauce takes a bit to simmer into perfection. But once it does, it's perfect for portioning out into pasta-filled bowls for easy, ready to heat meals.
This easy, garlicky entree is lovely served with rice or mashed potatoes. With just five ingredients (oil, salt and pepper don't count!), Chicken Snow Pea Skillet is a perfect stress-free dinner that can be made ahead and reheated.
This meatloaf sounds amazing — all the flavors of your favorite cheeseburgers in a sliceable form. AND it's packed with garlicky mashed potatoes and yummy green beans for a really awesome meal ready to be heated and eaten. YUM.
This quick and easy recipe combines garlicky beet greens with black beans, cheddar and salsa for an unforgettable farmers market-inspired meal. Once you've wrapped your burritos, stick them in the fridge until you're ready to heat them. These are heated in the oven, but will only take minutes if they are already prepped.
Inspired by the flavors of shrimp scampi, this easy recipe for Lemon Garlic Shrimp One-Pot Pasta with Arugula is a delight. Make it ahead and store it in ready-to-heat containers for later.
Rich in protein and iron and full of flavor, this Chickpea Curry is easy to make ahead and store for the week ahead. Sounds wonderful to me!
These easy to make ahead wraps burst with flavors and textures, making it a delightful midday meal. Sweet, creamy, savory and crunchy — Ham, Cambozola and Roasted Red Pepper Wraps hit all the right notes.
Meal Prepping Soups and Salads
This sultry salad combines shredded Brussels sprouts, sweet shallots and carrot and potato, all roasted together simply with olive oil, salt and pepper. Roasted Brussels Sprouts Salad is then tossed with balsamic vinegar and roasted a little more.
This tangy, briny Mediterranean Tuna Salad combines sweet bell peppers with cool cucumbers, feta, kalamata olives and tuna. Dressed simply with lemon juice, olive oil, salt and pepper, it's an easy make-ahead lunch.
Quick, easy and comforting, this soup is a delightful thing to have on hand for eating all week.
How pretty is this meal prep Greek Couscous Salad?
Warm, thick Slow Cooker Tomato Lentil Soup is an easy recipe to make, and so comforting to come home to at the end of the day. Plus it reheats really well.
Filling but light, this Tuscan-style salad is filled with kalamata olives, fresh tomatoes, chickpeas, red onions, stale crusty bread and more. How awesome would this be to dig into for lunch?
This Slow Cooker Beef and Veggie Stew has a faint French onion-ness to the broth that's also flavored with roasted garlic. Filled with beef, vegetables and potatoes, it's delightful.
Roasted garlic, roasted potatoes, roasted cauliflower, this creamy chowder is full of flavor. And it has a special secret ingredient that makes it even better: hummus. How great would this be to have on hand to heat up for dinners?
Built on a bed of baby lettuce, cubed leftover chicken, sweet red bell pepper, crisp celery and creamy blue cheese crumbles combine for this hearty salad that is easily made ahead. Pack the spicy buffalo wing sauce and tangy vinaigrette separately and drizzle on just before eating.
How about a classic Italian soup? Filled with tomatoes, beans, pasta and more, this hearty soup is easy to make and reheats well.
Sweet roasted tomatoes and smoky roasted red bell peppers make this thick, comforting soup special. It can be prepped ahead and eaten as is or enjoyed with a sandwich like grilled cheese.
---
Q&A Tips for Meal Prep Success
Do you have any tips for meal prepping for beginners? Where do I start?
It can be so overwhelming at first, especially if you try to go from no meal prep to all meal prep overnight. Start with one recipe — such as something to pack (or heat up) for lunch. Do that a couple times, just making a single meal. When you are comfortable with the process — from gathering all the ingredients to packing up the dishes — make more meal prep ideas for the week. And when you are super comfortable, expand to more meals and days.
What meals in general are good for meal prep?
Great question! The best meal prep meals are ones that reheat well (or don't need to be reheated). Salads (pack the dressing separately), pasta dishes and wraps are a great place to start.
Can you meal prep for 7 days?
The short answer is yes, absolutely. But the longer answer is this: food won't stay good for that long in the fridge. So if you are meal prepping for a whole week, you'll want to choose recipes that can be frozen for days 4-7. Then defrost them when you are ready to eat. This will limit or eliminate your risk of food spoilage.
What is the easiest make-ahead meal to make?
That's a little subjective, but in my opinion, the easiest is pasta. For instance, you can make-ahead a super easy ziti dish with cooked pasta, marinara, dollops of ricotta gently pressed in and topped with shredded mozzarella. The cheese will melt when you heat it up to eat. Or you can go even simpler: just pasta and sauce (one of my kids' favorites is to toss peas into the pot with the pasta for the last few minutes of cooking and then dress the pasta with butter, salt and pepper).
What can I meal prep in 10 minutes?
Salads with chickpeas or other beans. Chicken wraps with rotisserie chicken, cheese and heartier veggies like roasted red peppers and baby kale. Simple pasta dishes with quick-cooking pasta like vermacelli. Bean thread noodle dishes (try dressing them with a little seasoned rice vinegar and ginger and topping with rotisserie chicken, baby greens, shredded carrots and topping with chopped peanuts).
How long do meal prep recipes last in the fridge?
It varies based on the recipe. But a good rule of thumb is to eat your meal prep recipes within four days. If you have more than that, you should freeze the portions (if they freeze well).
How can I meal prep cheaply?
Great question! There are a couple of tactics you can take. Stick to less expensive items like beans, pasta and rice. These can be combined with other ingredients to make a variety of dishes. For fresh ingredients, focus on in-season produce. It will be the least expensive at the grocery store and farmers market. Also, make smart choices about ingredients. Avoid costly items like fancy cheeses and focus on basic, good ingredients. And, if you can, buy in bulk. The per pound cost of chicken is often less if you buy more of it, for instance. Likewise, lemons can be purchased in bulk to a cost savings. And finally, when you are planning your meals, see if there's a way to use like ingredients for different recipes. That way you are taking advantage of bulk prices and making sure that everything gets used.
Can you freeze meal prep meals?
Sometimes! It will depend on the recipe. For instance, pastas, rice dishes and chicken dishes can often be frozen but salads and creamy soups usually cannot.
Do I have to eat the same thing for a whole week?
Not unless you want to! Meal prep several different meals and you will have options to choose from.